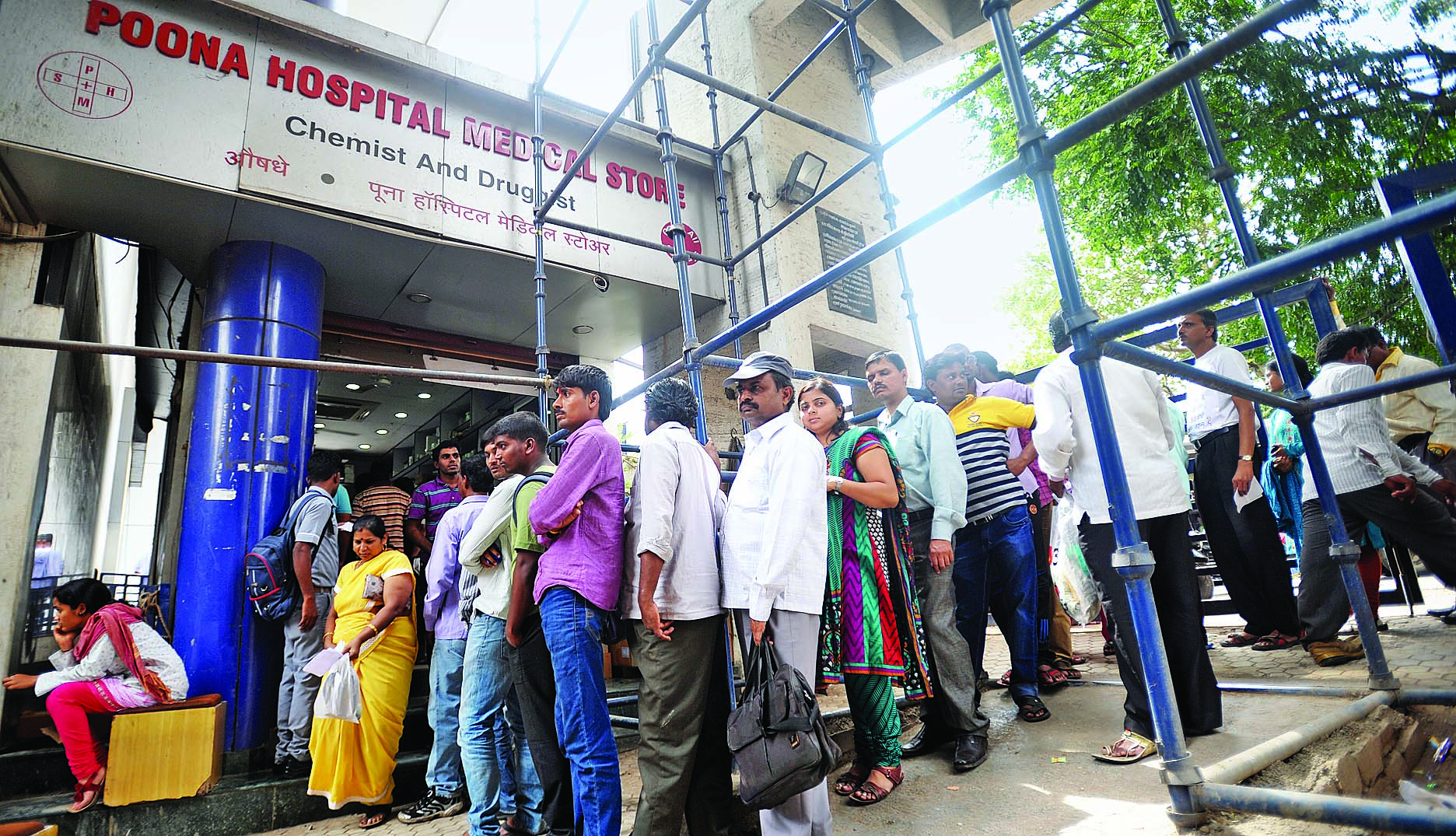 Pune: Nearly 7,000 chemists across the city went on a strike on Friday pulling down their shutters and leaving patients to fend for themselves. The chemists are protesting against the alleged harassment by Food and Drug Administration (FDA) officials, who have termed the strike 'illegal'.
The FDA officials have recommended action against those chemist shops which have been found functioning without qualified pharmacists and selling drugs without prescriptions.
But the stand-off between the two parties have left patients clueless as they have been running from pillar to post to get their daily dose of medicines.
SR Rajkarne, 72, was standing in a queue at Poona Hospital for nearly an hour to get his medicine. A diabetic for 26 years, Sinhagad resident had to come to the city as his stocks got over. "I have to take these medicines everyday and my stock got over. None of the chemist shops are open in my residential area and that's why I had to come all the way here," he said.
Similar was the case with 73-year-old Prabhakar Dixit. His wife suffered from diabetes and blood pressure and her stock of medicines was over. "Our chemist shop is only about 100 metres away from home, but today, I had to travel several kilometres to get the medicines."
At KEM Hospital's counter for medicines, a long queue of patients was seen. Somwar Peth resident Sanjay Jagtap had come with his sister to take medicines for his father who suffers from dementia and diabetes. He said, "None of the chemists are open in my area. I had to get medicines for both my father and neighbour."
R Kannan, 72, had come from Aurora Towers in the Camp area to KEM Hospital. However, he was not lucky enough get medicines. "Now, I will have to go to another hospital since all the shops are shut."
Meanwhile, representatives of Chemists Association of Pune District had a meeting with FDA officials. "We will continue the indefinite strike against the harassment of FDA. Their officials are taking action against members on trivial issues which is forcing people to surrender licenses and shut shops," said Vijay Changedia, secretary of the association.
Meanwhile, FDA officials said that no new rules and regulations are being imposed. VE Thomas, assistant commissioner (drugs), FDA, Pune, said, "We were not given any notification of the strike. While we have made alternate arrangement with 31 chemists attached to hospitals in Pune and 17 in the PCMC area to supply medicines, we also held a meeting with chemists' association and appealed to them to withdraw their strike. They need to realise that they are selling life-saving drugs."
About the allegations of harassment made by chemists, Thomas said that no new norms were being implemented and only existing norms were being asked to be followed. "The chemists must have a qualified pharmacist and maintain sale of records of all scheduled H1 drugs, besides recording doctors' and patients' names and addresses. If chemists do not follow rules, which are for patients' safety, we would take action."