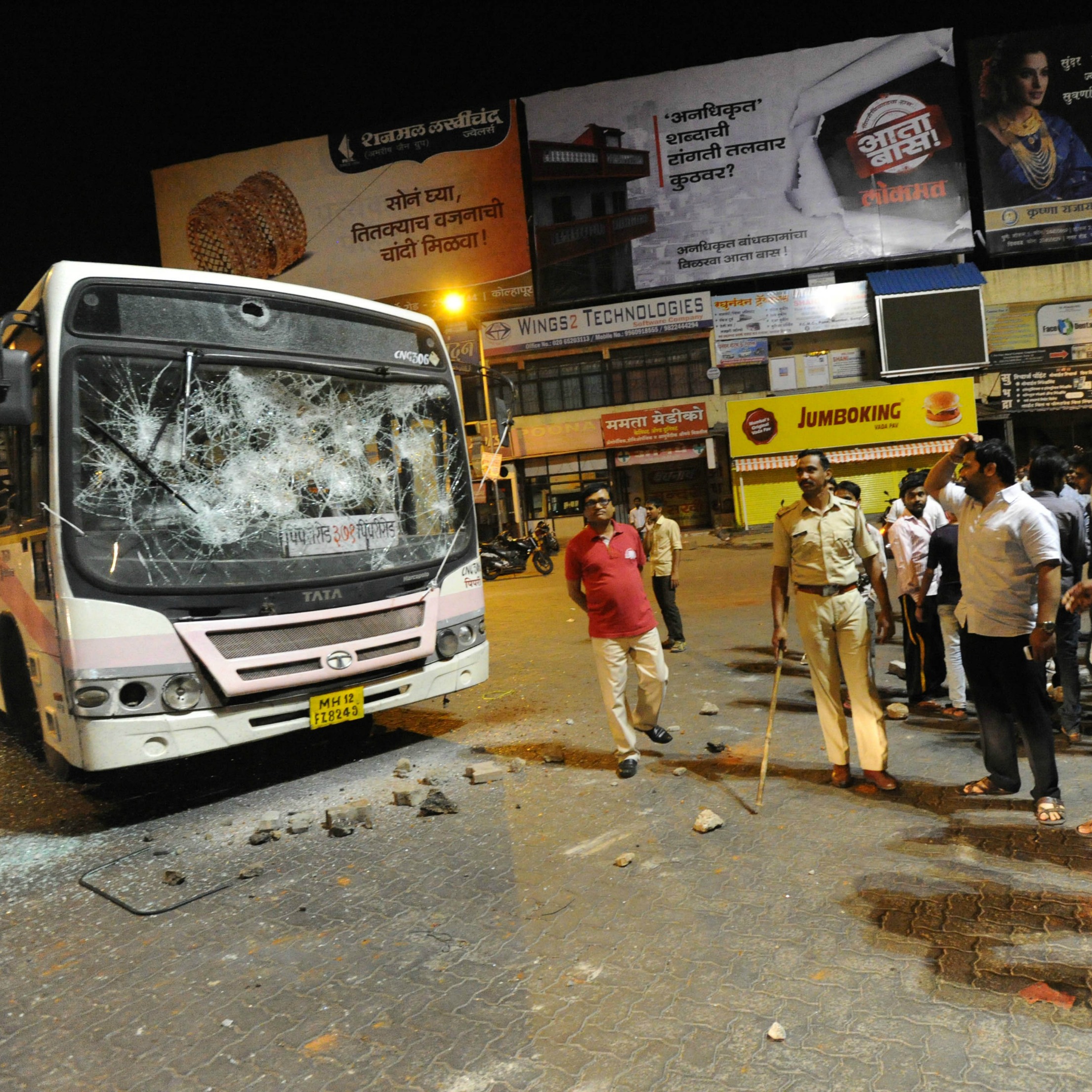 Angry Shiv Sainiks took to the streets in Pune around 9 pm after derogatory images of Chhatrapati Shivaji Maharaj and late Shiv Sena chief Bal Thackeray appeared on social media on Saturday. Sena leaders gheraoed Home Minister RR Patil who promised to speak to Facebook and Google to remove objectionable content in 24 hours.
2:00 am on Sunday, Facebook had successfully pulled down (blocked access) to the page in question and traffic in Pune resumed.
* An FIR has been registered here against an unidentified person for posting controversial pictures containing alleged derogatory references to warrior king Shivaji and Shiv Sena leader late Bal Thackeray on social networking site Facebook, police said today. Read more
READ MORE: Shiv Sena activists protest over controversial Facebook post
@dnaofpune cars towards pune from expressway released #pune

— Umang Oswal (@umangoswal) June 1, 2014
Expressway Blocked due to protests..just beyond the toll plaza #helpless pic.twitter.com/8MndfTiZRZ via @pmehta007

— Dna of Pune (@dnaofpune) June 1, 2014
Road blocked ahead of #tollnaka #pune #expressway pic.twitter.com/cMDFLPHfHY via @umangoswal

— Dna of Pune (@dnaofpune) June 1, 2014
Via @Mess_edUp: Just came frm #WakadFlyover in #hinjewadi #pune heavy police deployment...looks situation under control

— Dna of Pune (@dnaofpune) June 1, 2014
Men on bikes at Pimple Saudagar, #Pune in large groups waving the 'bhagva zhanda' saffron flag. via @pal36 pic.twitter.com/k7FPMoPjUm

— Dna of Pune (@dnaofpune) June 1, 2014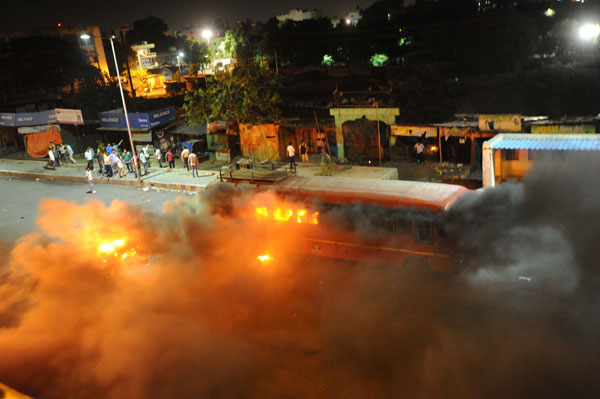 (Bus set on fire, Saturday night, near Bhonsari area)
Rioting & stone pelting abt the FB post also reported from Yeola near Shirdi via @RURALINDIA

— Dna of Pune (@dnaofpune) June 1, 2014
@dnaofpune @Pune24x7 Situation in PCMC area is completely undercontrol by Police forces especially in Chafekar Chowk cleared fr traffic.

— m_daves (@muthadevendra) May 31, 2014
Reached home safely. Hinjewadi-Vishal nagar-Jagtap dairy-Pimple Saudagar all clear, no traffic and safe to travel. #pune @dnaofpune

— Micro-ambitious (@pal36) May 31, 2014
In the meanwhile the city saw 5 hours of chaos, stone pelting, traffic jams and rasta roko protests. The expressway and highways into and out of Pune were at a standstill.
Employees from Hinjewadi, Rajiv Gandhi Information Technology Park Phase 2 have been advised to not leave office. Security guards at office entrances have been asked by the police to caution employees from leaving office premises.
Office security told that Hinjewadi police station may clear the situation in 30 mins and everything can be resumed as normal @dnaofpune

— Micro-ambitious (@pal36) May 31, 2014
We were at a restaurant and about we leave when we were informed of some stone pelting and bus burning. #hinjewadi @dnaofpune

— Micro-ambitious (@pal36) May 31, 2014
Several buses and private vehicles were pelted with stones in areas like Chinchwad, Katraj, Hadapsar, Bhosari and Faraskhana. Police have registered an FIR against unknown persons at Kothrud police station. The traffic on the Pune - Mumbai and Pune - Nasik highways is at a stand still. City buses too have stopped plying have been abandoned buses on deserted streets.
@dnaofpune @dna We're in a private bus being halted at kharade bypass. Traffic seems normal. Is it only private buses being targeted?

— Darshan (@darshandzend) May 31, 2014
#Pune - stone pelted on a bus on Jungli Maharaj road

— Techmanx (@techmanx) May 31, 2014
@dnaofpune @Pune24x7 Total of 5-6 PCMT Buses were being destroyed by protestors in Chafekar Chowk now brought down to d Police Station.

— m_daves (@muthadevendra) May 31, 2014
'Rasta Roko' ( block roads) marches and protests were reported to dna by citizens up to as late as 11 p.m.
#RightNow Rasta Roko Andoolan in #Hadapsar #Pune @dnaofpune @MirchiPune plz ask ppl to avoid Pune solapur highway

— Manish Pandey (@join2manish) May 31, 2014
Maha Police said, " We have blocked the page on social media and necessary action is being taken and culprits will be dealt with strictly."
Additional Commissioner of Police , Pune said that so far only one case has been registered with the Kothrud Police Station and it will be investigated thoroughly.
Incidents of forcibly shutting down of shops, pelting of stones and bottles on streets have also been reported by citizens.
जनतेने कोणत्याही अपप्रचाराला बळी न पडता शांतता राखावी - खासदार अनिल शिरोळे व आमदार गिरीश बापट pic.twitter.com/sRcJH5YFAr

— BJP Pune SocialMedia (@BJPPuneSocial) May 31, 2014
(First published on May 31, 2014)