After he assumed office on March 20, the police commissioner said he would go all out against gangs of chain-snatchers and free the city of the menace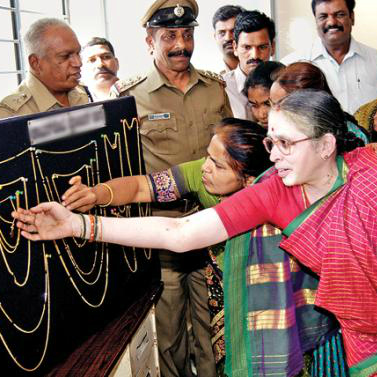 Pune: Chain-snatchers have continually been outsmarting city cops despite the new commissioner of police, Satish Mathur's vow to target gangs behind chain-snatching syndicates. An analysis of chain-snatching incidents reported in the last two months by city police shows that Zone III, mainly the Pimpri-Chinchwad, Sangavi and Hinjewadi areas, have emerged as a hotspot for incidents.
After taking over as city police commissioner, Mathur had claimed that chain-snatching and house breakings were top on his priority list. However, since March 20 till today Punekars have lost over half a crore of rupees in over 80 plus chain snatching incidents.
Of the 33 police stations in the city; Chinchwad recorded 10 of the 80-odd chain snatching incidents so far.
Over 90 per cent of chain-snatchings were carried out with a similar modus operandi— two men on a bike driving at a high speed brushing past the victim with the pillion rider snatching away the woman's ornament.
This at a time when the latest report released by the state Criminal Investigations Department (CID) showed that chain snatchers managed to snatch gold chains worth a whopping Rs 114 crore in Maharashtra in the past ten years; of which they would recover only Rs 30 crore.
Police said, increasing gold prices and the idea of quick money are the reasons behind rising cases of crime.

Chinchwad hotspot for snatchers
While an analysis of last year's crime data shows that Nigdi and Kothrud were the two areas most notorious for chain-snatching incidents, so far police press notes show that the fringe town Chinchwad has stolen that tag from Kothrud. So far, ten cases were reported from Chinchwad alone out of the total number of 80 incidents, highest in the city so far.
Most affected areas are in Zone III
Maximum number of cases registered are in Zone III, which comprises Chinchwad, Sangavi, Hinjewadi and Pimpri. A total of 23 cases were registered in which gold valuables worth Rs 28,07,572 were snatched by bike-borne suspects.
All these areas where the incidents took place are near highways as it is easy for chain snatchers to sneak away after committing the crime. Most cases were reported on weekends during the evening hours of 5 pm to 7 pm and later between 8.30 pm to 10 pm.

Cops highlight efforts to curb the crime
Deputy commissioner of police, (Zone III) Rajendra Mane said they have recently busted an interstate gang of chain snatchers and managed to detect more than 150 cases.
"We are hopeful that since a big syndicate has been busted, the menace will now decrease," he said. However, he agreed that chain snatchers are outsmarting cops. "Our force tried keeping decoys at affected areas but it didn't yield results, it seems the chain snatchers were able to ascertain that they are decoys."
He said that there is round the clock patrolling going on in the affected areas and surprise checks of criminals on records are also ongoing.
"There are nakabandis at strategic points in the jurisdiction to keep a vigil on the suspects," said Mane.

Commissioner refuses to comment
When dna tried to contact commissioner of police Satish Mathur, he said that he is on leave and cannot talk to the press.

Police patrolling intensified
Chinchwad police inspector-in-charge CA Sangale said, "We are trying our best to curb the chain-snatching incidences in our jurisdiction. Starting from May, we have changed our patrolling pattern so that we could bust chain snatching gangs. Besides, that we are trying to raise awareness and make announcements on public roads."
Amongst the best performing zones due to police patrolling are Deccan Gymkhana, Bhosari, Faraskhana areas where just one single chain snatching incident was reported.
P A Chaughule inspector in-Charge of Deccan Gymkhana said, "We have studied the areas in which such chain-snatching incidents take place. After understanding the modus operandi and the area we have increased patrolling in the area and installation of CCTV camera is also helping us to keep an watch on other areas too. We expect good results."