Chains worth `114 crore snatched in 10 yrs, only `30 cr recovered.These statistics won't just leave you shocked, but also fuming, upset and the cops ashamed. In the past 10 years, the chain snatchers in the state have snatched gold chains amounting to a whopping Rs114 crore. To make matters worse, the state police have managed to recover chains worth Rs30 crore in this period.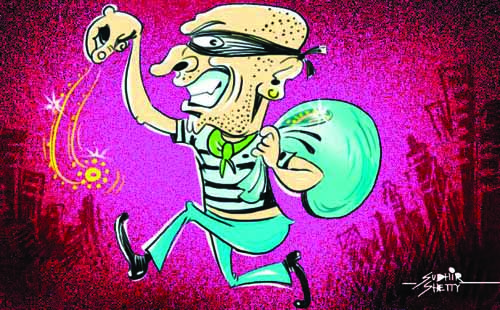 Pune:

Considering the present rise of chain-snatching cases in the state, the state Criminal Investigations Department (CID) has studied the data and scenario of these incidents over the past 10 years from all police commissionerates and rural headquarters of the state.

The study was headed by a special inspector general-ranked officer of the CID. The study is named 'Study of receivers in chain snatching cases and economics of these cases in Maharashtra state 2003 - 2012.'

Besides asserting the value of the stolen booty, the study also speaks about the spurt of gold prices which have increased by six times since 2003 till 2012.

A total of 36,533 chain-snatching cases were registered from 2003 to 2012 across the state. The number of chain-snatching cases has increased by 2.67 times since 2003.

The top five units which have reported highest number of chain snatching cases are Mumbai (13,176), Thane city (4,686), Mumbai Railways (3,477), Navi Mumbai (2,005) and Pune (1,986).

These five units contribute to 69.33% of the total number of registered cases in the state.

Mumbai (34.80%) has highest percentage share of stolen booty followed by Thane (17.99 %), Navi Mumbai (6.38%), Pune (6.14%) and Mumbai Railways (5.93 %).

These five units are contributing 71.24% share of the total shared booty.

In contrary, the recovery of the stolen property in the state during 10 years is worth Rs30.37 crore. The gap between the value of stolen property and value of recovered property is also increasing continuously since the past 10 years.

The Hingoli unit (66.34%) tops in recovery followed by Mumbai railway (56.34 %), Solapur city (53.77 %), Sangli (50.98%) and Washim (39.56%), states the study.

The trend of detection is fluctuating since 10 years. In 2003, the detection rate was 48.04%, while in 2006 it decreased to 42.35%. Again in 2007, it increased to 49.37% and decreased in 2011 (42.76%). In 2012, the detection rate fell to 14.20%.

Aurangabad rural unit tops in detecting chain snatching cases (71.43%) in the state, the study states.

In this period, the state police had arrested 742 chain snatchers. The highest number (182) of chain snatchers were arrested in 2012 which is four times more than 2003 (44). In Pune 109 chain snatchers were arrested followed by Mumbai city (46), Thane rural (45), Thane city (34) and Navi Mumbai (28).