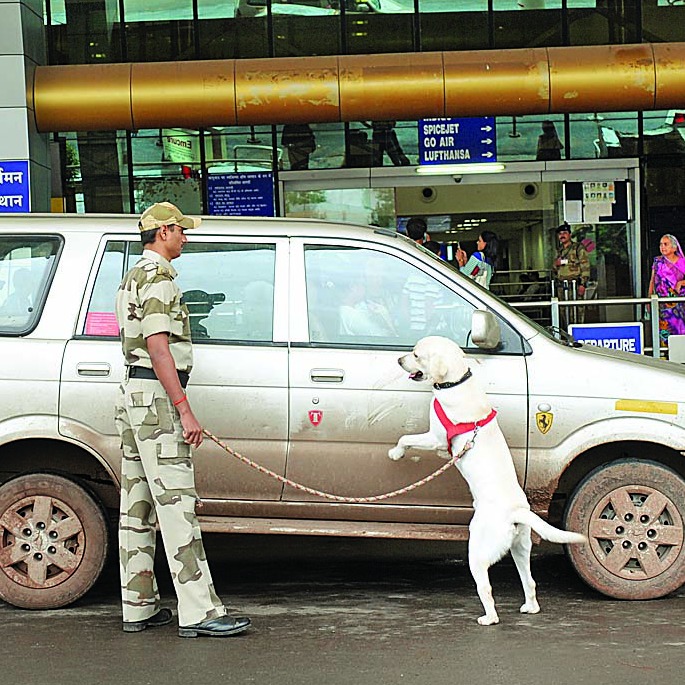 PUNE: Now the dog squad of Central Industrial Security Force (CISF) will alert the forces if any abandoned vehicles with explosive gets parked in the parking lot of Pune airport. On the backdrop of recent blast near Dagdusheth Ganpati temple, the CISF officials at the Pune Airport are giving special training to the dog squad to trace suspicious vehicles parked in the parking lot of of Pune airport.
Pune airport situated at Lohegaon is situated on the land of Indian Air Force (IAF) and it is considered to be hyper sensitive airport. After the blast in the parking lot of Faraskhana police station near Dagdusheth Ganpati temple, security at the Pune Airport has been beefed up. The CISF staff is keeping close watch on the vehicle movement at the Pune airport and they have trained their dog squad also to identify such suspicious vehicle lying in any of the parking lots of the airport.
A senior official of CISF on the condition of anonymity told dna,
" Earlier we did not have a dog squad which would help us in tracing suspicious vehicles. However, recently we have got the trained dogs who help CISF staff in making sure that no abandoned vehicles are parked in an area where they are not allowed."
The airport has a parking lot inside the main premises which is located just outside the airport main building. Apart from that there are two more parking lots on the other side of the road. The CISF has formed a special squad which keeps taking rounds of the whole airport premises and it alerts the higher officials if any abandoned vehicle or a baggage is found in Airport premises.
The CISF officials told dna, " If anyone leaves the vehicle in abandoned state, the squads alerts the dog squad and airport officials. An announcement regarding the vehicle is made so that if the owner of the vehicle is nearby, he can and remove the vehicle. If the vehicle is not removed immediately, the dog squad checks the vehicles followed by the BDDS as we can not waste time in searching for the owner."
" We have informed airport authorities to discourage the invalid parking at the airport and the authority also imposes fine if they find vehicle is not parked properly," CISF official said.