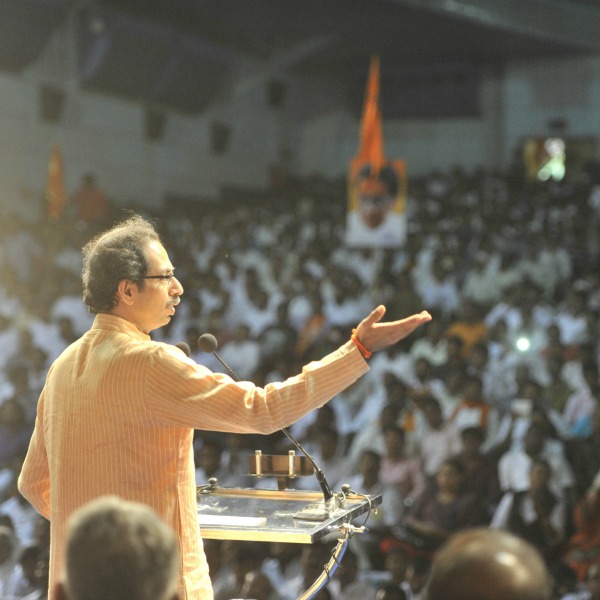 Pune: Appealing to party workers to harness the best opportunity to bury the Congress-NCP government in the state forever, Shiv Sena chief Uddhav Thackeray on Wednesday said that his priorities would be to improve rivers and make Pune the educational hub of the state.
Thackeray launched the membership drive and statewide tour from Pune on Wednesday. Addressing the office bearers of the party, he criticised Congress-NCP democratic front government for its failure on almost all fronts. Shiv Sena leaders Subhash Desai, Shahsikant Sutar, Lok Sabha MPs Gajanan Keertikar, Shivajirao Adhalrao-Patil, Shrirang Barne, MLAs Mahadev Babar, Chandrakant Mokate, MLC Dr Neelam Gorhe, city unit presidents Sham Deshpande, Ajay Bhosale, Ashok Harnawal and others were present on the dais.
Criticising chief minister Prithviraj Chavan without naming him, Thackeray said, "NCP president Sharad Pawar criticised the chief minister for his hands getting paralyzed while signing the files but since the elections are nearing Chief Minister is announcing a decision every other day." Criticizing the government for ignoring demands by warkaris in the state, Thackeray said that on one hand the government is ignoring warkaris and on the other hand it has kept reserved funds of Rs. 100 crores for the advertising campaign for the ensuing assembly elections. He said that he would give highest priority to improving the conditions of rivers in the state and making Pune the educational hub of the state. Shiv Sena leader Subhash Desai cautioned party workers against engaging in to any other controversy like Dadoji Kndadev statue or statue of the dog at Fort Raigad which is raised by R R Patil to divert the attention from issue like corruption.
'Not keen on becoming the CM'
Making his stand on the post of Chief Minister Thackeray said, `I am not eager for the post since this question arises after the election and most important is to topple the Congress-NCP Government. He said that it was important to achive collective goal than individual percuits and as far as I am concerned, I am not so eager for the post.' In Marathi Thackeray said, `Mala Khurchiche Dohale Laglele Nahit' meaning he was not as eager for the post as a pregnant lady wishes to eat certain things and her wish is fulfilled.