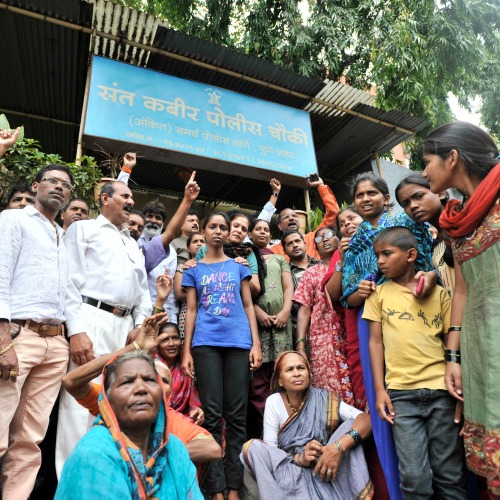 Pune: High drama prevailed at Nana Peth on Saturday morning after a mob of 100 residents gathered outside Sant Kabeer police Chowky and demanded the arrest of a builder after a 42-year-old autorikshaw driver committed suicide after being allegedly tortured by the said builder who refused to give the possession of his flats and kept it in abeyance for more than five years.
The deceased has been identified as Rajesh Thakur (42), a resident of Nana Peth. The Samarath police station have registered a case of accidental death and are probing the case. According to the police, Thakur is survived by his wife a, four daughters and 12-year-old son Wilson. Local political leaders guided the protests and demanded builder Asif Khan's arrest.
Thakur's daughter Komal, 21, a college student said, "On Saturday around 5 am my father got up and was sitting in balcony and weeping. Before I could console him , he suddently jumped from our third floor," she said.
Six years ago, Khan had approached us that he planned to construct the area under Slum Rehabilitation Authority and had promised to give us our own house in a year's time. Meanwhile, he had located us to a rental accommodation. He has constructed six buildings with six floors each and refused to give us possession. He wanted us to sell our flat but we refused. Khan then started sending goons to our house. Last week Khan's men tried to run over my younger sister."
Naseer Shaikh who has not been given the possession of his flat said, "In the past we had approached the police but they said that we would get beaten up if cops got involved."
DA Patil, inspector of Samarath police station said, "We are investigating the case. We have registered a case of accidental death and after expert opinion we will be registering a case against Khan." Khan is apparently close to an ex-chairman of the PMC standing committee.