With 94 per cent marks, 18-old Afreen Shaikh has been a consistent class topper since Class I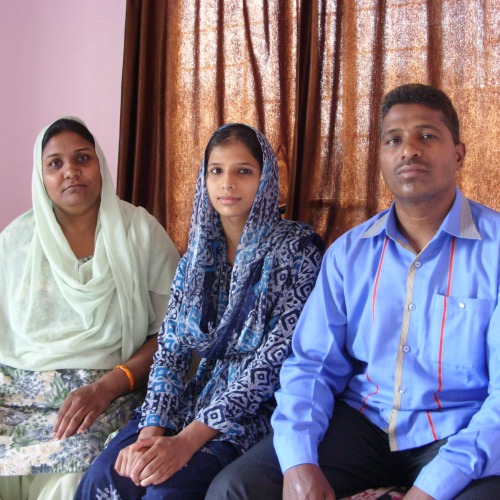 Pune: At first glance, 18-year-old Afreen looks shy and introvert, but this girl has set a record of topping consistently from Class I to Class IX. And this year, she has scored 94 per cent in the SSC board exams and topped among the 1,889 passed out students from the 19 municipal schools in Pimpri Chinchwad area.
Small time barber's daughter, Afreen Shaikh, says her secret of success is scheduled study timings everyday, which she would manage along with helping her mother in cooking and household chores. "Three months before the exams I stopped watching TV programmes. I had a set regime of study time, 3 hours in the morning and 3 hours in the evening. My parents supported me in my aspirations," she said. She said that her wish is to become a professor in a medical college.
Afreen is among the 9 students scoring above 90% in SSC exam from 19 municipal run schools in PCMC and will now be awarded with Rs1 lakh, as announced by the municipal corporation this year. Living in a one room kitchen flat at Kharalwadi near Pimpri, Afreen's father, Kalim Shaikh, runs a small barbers shop in the area. Hailing from Jaunpur in Uttar Pradesh, Shaikh has been staying in Pune since 35 years. Talking about her daughters dreams he said,"Afreen is the brightest among her two brothers and a twin sister. Her career is her choice."
Surprisingly, Afreens parents are uneducated, with father never going to school and mother studying till 5th class in a rural school. Afreen's father said, "Afreen would attend tuitions till Class V, but after that, she has studied on her own. We are proud of her."
Afreen said she likes to watch National Geographic and Discovery channels and read books in English and Hindi languages. Afreen comes from Akurdi located Urdu Secondary School. She studied till 7th class in Urdu medium and after that in semi-English medium.
This year, the 19 PCMC-run schools have scored 91.69 percent passing rate in 2014 SSC exams. In all the schools 9 students scored above 90% marks.