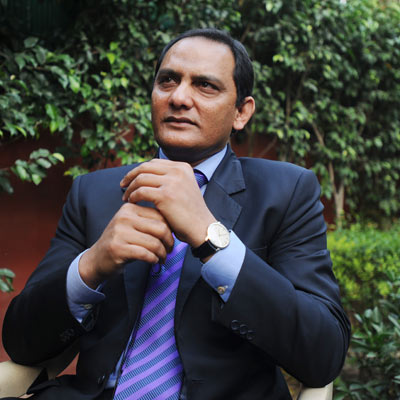 Pune: He came, he waved and zipped past. This was the common reaction from onlookers who were asked to describe the bike rally that Congress star campaigner and former skipper Mohammed Azharuddin undertook asking people to vote for Pune Lok Sabha candidate Vishwajeet Kadam on Saturday.
Dressed in a white kurti and cap, wearing tinted glasses, Azhar started his rally around 4.30 pm in the busy Camp area greeting people in a calm posture. Soon he got into a van which was led by three sports bike and many other supporters and fan followers.
However, for the better part of the campaign trail, the sportsman missed the 'mark' and merely kept waving to the 'fans', forgetting that he was also supposed to make a vote appeal for the candidate.
Cricket fans who were waiting to hear from the former skipper were disappointed while some bikers joined in the convoy of fancy bikes hoping to see more of him or may be get an autograph. Some did get lucky along the way getting a handshake or a selfie.
Most of the rally was attended by the youngsters who were driven by the charismatic personality. "I am a supporter of Congress but more than that I am here only to meet Azhar as I am a big fan of him," said a youngster.
Localites were seen clicking pictures from the top of the buildings and terraces.
While there were Congress supporters and cricket fans attending the rally, there were also people who thought this was a political stunt. "Politics has nothing to do with sports, people understand the political games very well, so I don't think it will impact the voters in any way," said Mohammed Zakir, a local resident.