Though a NCP bastion, sitting MP Supriya Sule is not taking the election lightly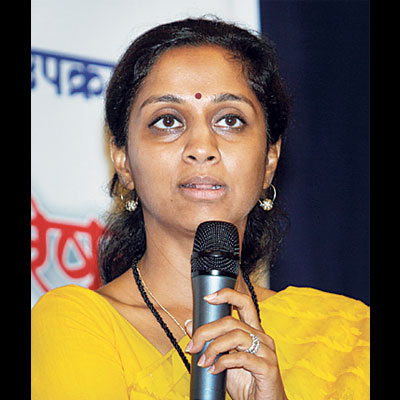 Baramati: Even though Baramati has remained the Nationalist Congress Party (NCP) bastion so far, the sitting MP and NCP chief Sharad Pawar's daughter Supriya Sule is not taking the election lightly. It will be an uphill task for the Shiv Sena- BJP and Aam Aadmi Party (AAP) to make dent in the NCP stronghold.
The Shiv Sena-BJP has supported Mahadev Jankar of Rashtriya Samaj Party (RSP) while AAP has fielded former IPS officer Suresh Khopade against Sule. Though it looks like a triangular contest, all the candidates will have to address the contentious issue of BDP reservation in urban parts of the segment, and other problems of the constituency which constitute voters from urban as well as rural pockets.
The issues
After the delimitation of constituencies, some urban areas of Pune city like parts of Kothrud, Hinjewadi and Warje Malwadi have been added to the constituency and they have their own problems. Apart from that, it has rural areas like Baramati, Purandar, Daund, Bhor and Indapur and most of the voters from these areas are farmers.
In the urban areas of the constituency, candidates will have to address the issue of BDP zone where restrictions have been imposed on construction on hilly areas. Though these areas are the stronghold of NCP, the party and Sule herself is finding it difficult to address the problem. Apart from BDP issue, the urban parts of the constituency is facing the problem of increasing criminal activities where goons are targeting posh localities like Hinjewadi, Wakad and Bavdhan. The rural parts of the constituency have recently faced the natural calamity where majority of the standing crops have been damaged in hailstorms.
Candidates
NCP chief Sharad Pawar had been representing Baramati constituency from decades and he never lost. In the 2009 elections, Pawar left the Barmati seat for his daughter Supriya Sule where she for the first time contest Lok Sabha elections and she continued NCP's winning tradition in Baramati. Now Sule for the second time is contesting election from the same seat.
In the strong hold of NCP, Shiv Sena and BJP have entered Mahadev Jankar of Rashtriya Samaj Party against Sule. Jankar has a support of farmers and backward class and the other encouraging factor for Jankar is that out of six assembly constituencies in Baramati, NCP has only one MLA and that is Ajit Pawar from Baramati assembly. Out of other five assemblies, two are with congress with Harshwardhan Patil representing Indapur and Sangram Thopte representing Bhor. Purandar is represented by Vijay Shivtare of Shiv Sena who was in the race to get ticket against Sule but now he is campaigning for Jankar. The Khadakwasla constituency is represented by BJP's Bhimrao Tapikr who had defeated NCP candidate Harshada Wanjale. The remaining constituency of Daund is represented by independent candidate Ramesh Thorat.
Apart from these candidates, AAP has also decided to contest on Baramati seat and it has given ticket to former IPS officer Suresh Khopade. Khopade who had introduced Mohalla committee concept after 1984 Bhivandi riots retired from the police force as a Special inspector general of police.
Previous elections:
In 2009 Lok Sabha election, Supriya Sule had got 4,87,827 votes which was more than sixty percent of total votes in the constituency. Sule had defeated BJP candidate Kanta Nalawade who had managed to get 1,50,996 votes which was around 20 percent of total share of votes.
In 2004, NCP Chief Sharad Pawar had contested from Baramati and he had received 6,34,555 votes which was 71 percent of the total voter turnout. Pawar had defeated Prithviraj Jachak of BJP who had managed to get 2,11,580 votes.
In 1999 also Sharad Pawar had come victorious where he had received 510928 votes while BJP candidate Pratibha Lokhande had got 212025 votes.