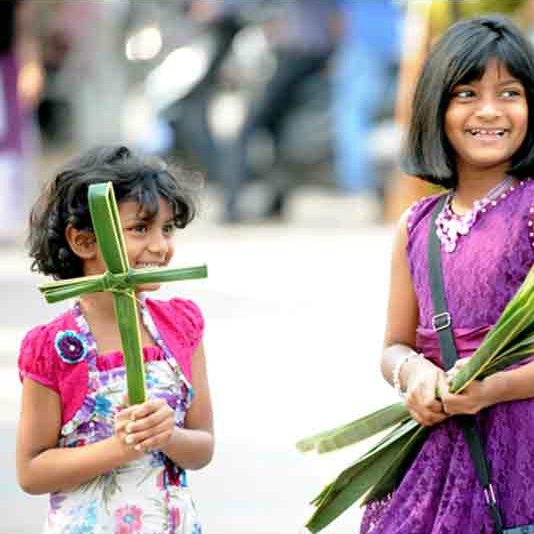 Pune: Starting from today, thousands of Christians across the city will be observing Holy Week beginning with Palm Sunday.
In churches across the city today, morning services would see hordes of believers getting their palm leaves blessed by priests and special prayers offered.
"The Holy Week is about remembrance of the last few days of our Lord. It is the time when all Christians pray, observe fast, visit churches and repent for their sins to start their life anew. This begins with the Palm Sunday signifying the entry of Jesus Christ in Jerusalem where people welcomed him by spreading Palm leaves in his path," said Bishop of Poona, Rt Rev Thomas Dabre.
The 40-day period of Lent will come to a close on Good Friday. Palm Sunday would be followed by - Maundy Thursday, Good Friday and Holy Saturday which marks the Easter vigil.
This year, Maundy Thursday coincidentally is on the day of elections, April 17 and the Church has adjusted timings of mass to ensure that the voting process does not get affected. Even the Christian community is in agreement that they will neither miss the election nor the church service.
"I am going to vote in the morning and then attend the evening mass after 6 pm. Maundy Thursday is held to signify the Last Supper Christ had with His disciples. I will also be attending the Holy Hour which is there till 12 midnight held at every church," said Saloni Powar (22), a resident of Karvenagar.
Following Maundy Thursday would be Good Friday and Holy Saturday. "All the ones who want to attend the Church service of Good Friday, which is also the most important day of Holy Week, can visit any church in the morning service of 8 am where services start with Christ's sufferings and end with his crucifixion," said Fr Malcom Sequeira of St Patrick's Cathedral.
He added that prayers for Mother Mary will start at 12 noon at churches for an hour on the Holy Saturday. There after, the Holy Saturday will have an Easter Vigil Service to mark the resurrection of Christ which will be followed by Easter on Sunday which marks the end of the holy week.
"We celebrate Easter by distributing Easter eggs as it marks new life," said Monika Vicks, resident of Alandi.
Timings
Palm Sunday: 7am to 9 am
Maundy Thursday: Onward
Good Friday: 12 noon to 3 pm (Protestant church service), 3 pm to 6 pm (Catholic Church Service)
Holy Saturday: 7 pm onward
Easter: 7 am to 9 am.