Balbharati's new book incorporates history, geography, civics and science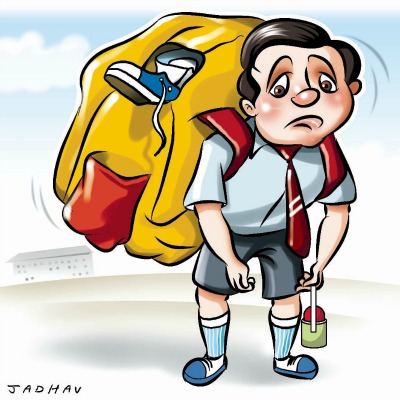 Pune: It's not just the pressure of academics that bog our children down, but also the heavy burden of books they have to carry in their school bags.
The Maharashtra State Bureau of textbook Production and Curriculum Research- Balbharati's new move will take this load off the children.
For students of standard III, Balbharati's new book 'Surrounding Studies' incorporates subjects like history, geography, civics and science in one.
While drafting the particular book, Balbharati prepared a different book for every district localising it with contents like geography, tourist places, educational institution, transport and local industries. For example, kids in Mumbai district will learn about newly started monorail while kids from Ahmednagar will have an opportunity to know about the Sugar Industry in their district.
Many renowned intellectuals like IMD director, historians and authors were roped in to conceptualise the book.
"In order to make learning experience fun, the content of the book has been drafted and more emphasis has been put on activity-based studies. Since four subjects have been incorporated in one book, the weight of the school bags will also be late," said Chandramani Borkar, director of Balbharati.
He said that since the content of the book has been designed as per the respective districts, kids will get an opportunity to learn about their city and surrounding areas.
"In Pune, kids will be learning about maps, highways, rivers and tourist places like forts and palaces in and around the city in the geography section and will also learn about the local industry like automobile and Information Technology (IT)," said Borkar.
He said that the Shri Shiv Chhatrapati Sports Complex, Balewadi is also included in the textbook.
"The objective behind designing such a book is to make students aware about the natural, social and cultural surroundings," he said.
He added that while learning history, students will be encouraged to make their family tree and the objective behind it is to make them find their family roots.
"In the book, a specimen family tree has been given and on that basis, the students will be making a family tree of their own family," he said.
While designing the book, people like director of India Meteorological Department, Pune Medha Khole, a noted historian and writer Dr Sadanad More, Dr Bal Phondake, Marathi writer of science literature, Prof Yashwant Sumant and several other intellectuals helped the bureau to draft the book.
The books will have more pictures, cartoons, maps and figures while the font size will be broader and attractive. The size of the books will be of A-size and the paper quality will be brighter.