Pune: Mountaineering is a sport that is picking up in Pune in a big way and age is no matter for the budding mountaineers. Age is an issue of mind over matter, if you don't mind it doesn't matter and proving the idiom right are two members of a group of 21 Punekars who had left for a trek to Mount Everest trek amongst which ten people managed to reach base camp. One of those who touched base is a 13-year-old girl from city and her co-mountaineer happened to be a 61-year-old grandfather.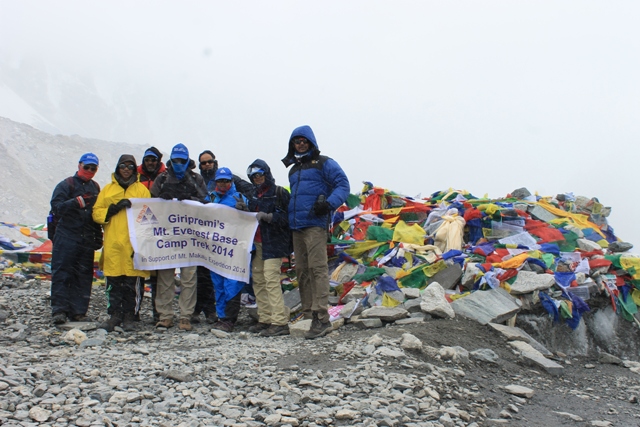 The 14-day expedition ended a couple of weeks ago and were organised by Giripremi, a city based mountaineering club. A part of the group trekked to Kala Pathar, an adjoining peak which is situated on a higher altitude than the base camp. This voyage was especially inspirational because it had a school girl and a 61-year-old from the city.
Anil Kulkarni, a retired employee of BJ Medical College scaled the peak of Kala Pathar. Asked about his preparation for the trip, fitness freak Kulkarni does weekly treks to Sinhagad besides swimming and cycling on a daily basis. Claiming that he can walk tirelessly for miles, he said, "When I was working, I used to regularly walk home from work. I have walked to Shirdi, Sajjangad, Akkalkot."
Tanvi Gadgil, a 13-year-old studying in class VIII at Jnana Prabhodini Prashala managed to achieve the feat of reaching the base camp of Mt. Everest Her mother, Yashodhara Gadgil said "She has been trekking since the age of 6 and we never doubted her capabilities of conquering the task. Also, she was a part of "Aahwan" a program of Giripremi for school kids for past two years that's why they allowed her for this base camp expedition".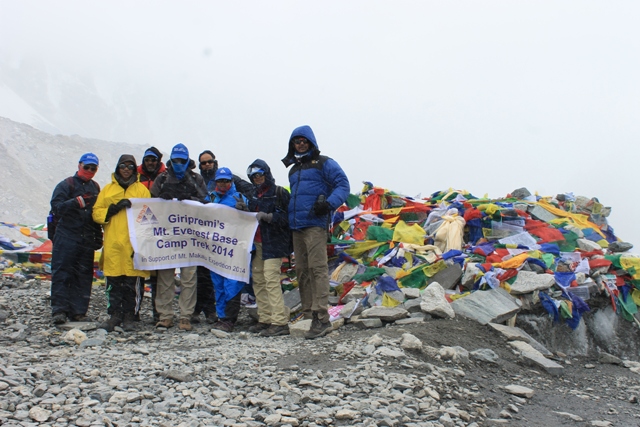 On being asked about the special care that they took, Gadgil stated "Building stamina,eating healthy food was the main focus. We completely avoided any kind of spicy or oily food from outside. To build her stamina she used to climb Sinhagad twice in one go every alternate week plus she made sure that she never missed her daily treks to the entire blocks of Chaturshringi hillock."
There are two base camps that lead to the imperial mountains, one on the Nepal side which is the "south col" and the other on the Tibetan side which is called the "north ridge". The group reached the base camp situated on the Nepal side of the mountains, sitting aloft at a height of 17,598 ft.
The 13-year-old has a word of advice for other aspiring mountaineers "Nature can be very unforgiving and you may fail a lot of times but you should not loose hope. These mountains and valleys are unpredictable and they test you, but keep believing in yourself and nobody can stop you."
She plans to accompany her father to Stok Kangri which is the highest peak in the Ladakh region in July.