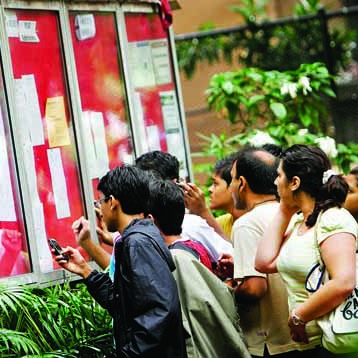 Pune: With more cases of gullible parents getting cheated by admission touts promising admissions through management quota on the rise and the admission season picking up in all the colleges, cops have started spreading a word of caution among colleges and parents and appealing to them to stay away from these racketeers.
However, cops are saying that despite the awareness by them and even by the colleges, the parents and students are becoming victims of these admission touts. Adopting a multi-pronged approach, some police stations such as Deccan Gymkhana and Kothrud and Bharati Vidyapeeth have a majority of educational institutes under their jurisdiction, that have sent notices to colleges.
The notice asks colleges to adopt strict measures to prevent fleecing of candidates such as putting up boards on campus, updating websites and printing on admissions forms besides holding counselling sessions for aspirants.
"There are several prominent colleges which come under Deccan Gymkhana police station and we have put up boards in all these colleges at the entrance appealing that the students and their parents should not fall prey to these touts," he said. "Unfortunately, a large majority of the cases registered in the past are still not solved, which means that conmen have a well-developed network and easily slip away," he said.
The admission process has picked up the momentum in the city colleges and now the cases started cropping up as these touts start their advertising' in advance and after getting the preys they mint money from them by posing that they have good contacts in the college management and once get the money, they disappear switching off all their phones.
Colleges are saying they are urging parents and students...
While speaking to dna, Dr Anand Bhalerao, the Dean and Principal of Engineering College of Bharati University, said that if the students and their parents are approached by these touts, they should not fall prey and consult the college administration and cross check about such offers.
Principal of Modern Collegem Dr Rajendra Zunjarrao said that in many cases, parents hand over their original documents to these touts and later land in a soup, as they require these documents for other admissions.
"Sometimes even attested copies are misused, which is an important thing that parents must keep in mind. It is better to notify authorised persons in the college, if someone contacts a parent, as this can also help institutes understand and plug the leak on how data of aspirants is shared," said Zunjharrao.
Recent cases
In February this year, a 51-year-old man Kamalsingh Umedhsingh Gulia, who works in the Prime Minster Office (PMO) was duped to the tune of Rs1.5 lakh by con-men who had promised to secure his daughter an MBA seat in Symbiosis.
Few days back, the Bharati Vidyapeeth Police had registered case against four admission touts for cheating an MBBS aspirant to the tune of Rs 2.5 lakh by promising admission in Bharati Vidyapeeth.