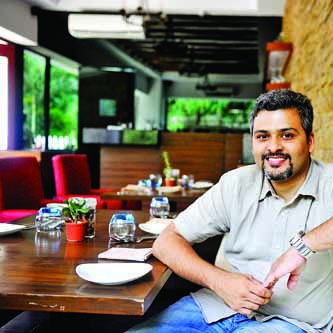 With a whole lot of Italian, Indian, Oriental and Continental restaurants springing up all over the city, this one comes as a pleasant change. With absolutely no hint of an Indian touch, Casero takes you on a delectable trip across Spain, Morocco, Turkey and Greece.



White stone walls, green doors, a strong breeze, a white fence lined with potted palms, little lamp shades at every table, and soft jazz music playing softly in the background -- this place will definitely remind you of a sea-side bistro in Greece or Italy. The staff is polite, courteous and makes sure every need of yours is attended to.



The journey across the Mediterranean coast starts as soon as you are handed over the menu card. Hand-made paper clipped on a heavy wooden slate, the menu card provides a detailed description of all the food items. Casero means "home-made" in Spanish, and this is exactly what works for them. There is something about the place that will make you feel at home, and this is what makes the culinary experience all the more exciting.



Warm, buttery, lightly toasted bread served with some light and refreshing hummus was brought to our table while we browsed through the menu. Mahesh Kini, the owner of Casero, came over to us and suggested we try out a few of their specials. "We use authentic Mediterranean style of cooking, which is why you will not find even a little hint of any Indian flavours in the food. "



For starters, we recommend the Green Tomato and Goat Cheese which is a fried patty, soft and cheesy. The Spanakopita is another must-try, which is a thin, soft, buttery pastry stuffed with spinach. For the non-vegetarians, there are a lot of options -- we recommend the Moroccan style lamb balls that are cooked in the home-made tomato sauce. The chicken Souvlakia is a grilled preparation served on skewers, and has a fresh flavour of lime, olive oil and herbs. If you are in the mood for some sea-food, the Kalamar Tava comes highly recommended, which is a Turkish preparation of squids stuffed with shrimps.



For the main course we once again recommend a range of dishes – For the vegetarians the Artichoke and Phyllo Parcel will definitely be a hit, which is an oven-baked preparation of cheese and pan-sautéed leek, covered in a light and buttery pastry. The Root Veg Saganaki is another option, which is a deep-fried patty made of root vegetables (radish, beetroot, and carrot) served with the home-made tomato sauce. For the meat lovers we recommend the Casero Signature Paella which involves prawns, crab, chicken and pork sausage served in lemon rice.



The Harissa Chicken is strongly recommended for those looking out for spices-- this one is prepared with chilies and bell peppers in a foil for the flavors to stay intact, and seep right in. There is also the Lamb Shank Tagine which is mutton served in a thick gravy, cooked with caramelized onions, dates and spices.



The advantage of this cuisine is that it's very light on the stomach, and even after all those dishes we had appetite for some desserts. Their Dark Chocolate Rum Tote has been highly recommended by many Punekars, and we could not be left behind. If you love dark chocolate, there is no reason you must miss out on this. If you are looking at something light, we recommend the Arabian Nights, which is a platter containing a rich, creamy milk based dessert, a walnut filled baklava, and a refrigerated preparation of saffron milk.



A must-try for those looking out for a completely new culinary experience. We'd definitely be going back for more.