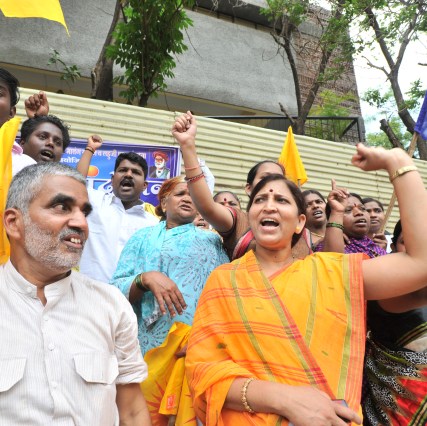 As many as 40 parents, whose children were allotted Vikhe Patil Memorial School through the 25 per cent quota in Right to Education Act, were up in the arms with the said school authorities, after the school denied the admissions. The school is demanding that the education department first give them in writing that they will reimburse the fees of these students.
There were several parents who on Monday demonstrated protest in front of the school and demanded that their children should be admitted to the school, as they have already being allotted the school through RTE.
While speaking to dna, one of the parents, Sachin Ingale said that the at the pre-primary section, the school is denying the admission stating that until and unless the education department is not ready to give them in writing that they would be getting the fees of these students from the government, they would not give admission to these students.
"By doing this, the school is actually violating the rules of RTE and state education department should take action against them," he said,
Another parent, Dipak Vayal said that the school has already opened an children are misiing on their studies, which is affecting their studies.
The local corporator, Datta Bahirat, who had offered to pay the fees of all these 40 students as a deposit, said that the school is not allowing him to pay the fees as deposit as they are not interested in taking these students.
"Now the school is turning students away. Where will these students go? The school is worried about the money and I offered to pay the reimbursement. But the school has denied my help, showing its adamant unwillingness to admit RTE students."
Nandini Charles, the principal of the school said, "We are not denying any admission, we are just asking undertaking for the reimbursement of the fees."