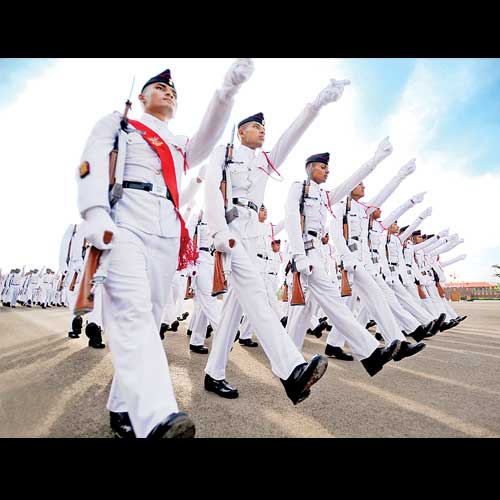 Pune: "The army is capable of protecting the national interest by persuasion, or if necessary, by force," said retired army Lt General AK Singh to the new graduates of the National Defense Academy.
On Friday, 352 cadets graduated from NDA. The 126th convocation ceremony was held at Habibullah hall where Lt Gen (Retd) AK Singh and the Lt Governor of Andaman and Nicobar Islands were present. NDA commandant Air Marshal Kulwant Singh Gill, Deputy Commandant Maj Gen Ashok Ambre and other faculty members of NDA were also present for the convocation.
The cadets proved their strength and wits; with 103 of them getting BA degrees, 152 getting Bsc degrees and 93 with BSc (Computer Science) degrees from Jawaharlal Nehru University.
Cadet Ankur Rawat bagged commandant silver medal and the CAS trophy presented for standing first in Social science stream. He also won the chief of Naval staff trophy for standing first in all the three streams. Squadron Cadet Captain Deepak Kumar won the commandant' silver medal and COAS trophy for standing first in science stream. Cadet Quarter Master Sergeant Saket Kumar received the commandant's silver medal and the Admiral's trophy for standing first in computer science stream.
During his motivational speech for the graduates, Lt Gen Singh said, "As a defence personnel, a soldier does not have a choice of being a runner up. He has to deal with life and death, hence soldiers have to keep winning again and again. Military leadership is not event management, it is about leading from the front. It is about blood and guts."
Singh also stated that India is a peace loving nation but it can't be considered a weakness.