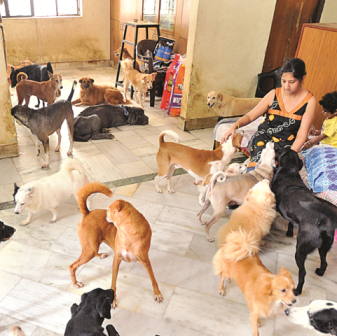 Pune: The sound of over 30 howling dogs, stinking smells has become a matter of discomfort for over 50 residents at Rajiv Nagar South Region Residential Society in Vimannagar.There are over 60 bungalows in the area mostly owned by ex-servicemen.Shankar Shinde, a retired airforce officer along with 30 others has now approached the airport police to address their grievances against Paromita Ghosh, 35, who stays in a 3,000 square feet bungalow on a rental basis.Ghosh, along with her two-year-old kid is staying in the rental bungalow with over 32 dogs. Most of them are stray, rescued and some were injured in accidents while a few are suffering from infections.

Shinde said, "We are facing this peculiar problem for the past three months and are quite upset about it. The dogs bark late during the night and after midnight, we simply loose our sleep and kids wake up to their noise. We tried to reason out with Ghosh but instead of reigning in her dogs she has threatened to book us under molestation related charges."Sunita Samarite, who is a neighbour of Ghosh, said, "I was pregnant when Ghosh started living in our area. I felt nauseated due to this issue I was advice to stay another area till the delivery of the child. The smell is so stinking that even people and guests coming to our house while entering and sitting in the drawing room cover their nose."
Abhishek Sathe, a student and another neighbour, said, "My father is suffering from paralysis and he is completely bedridden. The dogs barking is really irritating as they literally howl. Not one but all the dogs. Many a time, we approached her but she advice us to increase the wall of our house."Archana Kanojiya (42), a resident says, "Dogs have really created a mess in our area, as they not only bark or stink when we pass but even when we are walking from the area, they start barking and follow us. Many a times, I am in fear they will bite me and while running from me I felt down."
On the other hand, the owner of the bungalow Anil Bhosale said, "Ghosh is a good lady and she is not carrying any illegal activities that I must compel her to leave the house."When approached Ghosh said, "The dogs are not at all harmful. Earlier, there were many house breakins and robbery incidents taking place in our area but due to my dogs in four months no undue incident has taken place. These are rescue dogs and I am sheltering them and no illegal activities are being carried. All my dogs are steralised. If such was a case, the owner of the bungalow would advice me to vacate the flat."Sanjay Kurundkar inspector in-charge of airport police station said,
"Residents have approached us complaining against Ghosh. We have warned Ghosh that the citizen must not face an issue. Meanwhile, we have asked legal opinion to lodge a case against Ghosh."
Also, the Pune Municipal Corporation's health department inspected her house after the complaint received from local residents.