Punjab Grill, a fine-dining restaurant recently launched their new menu called "Chakhna". Its all about going desi !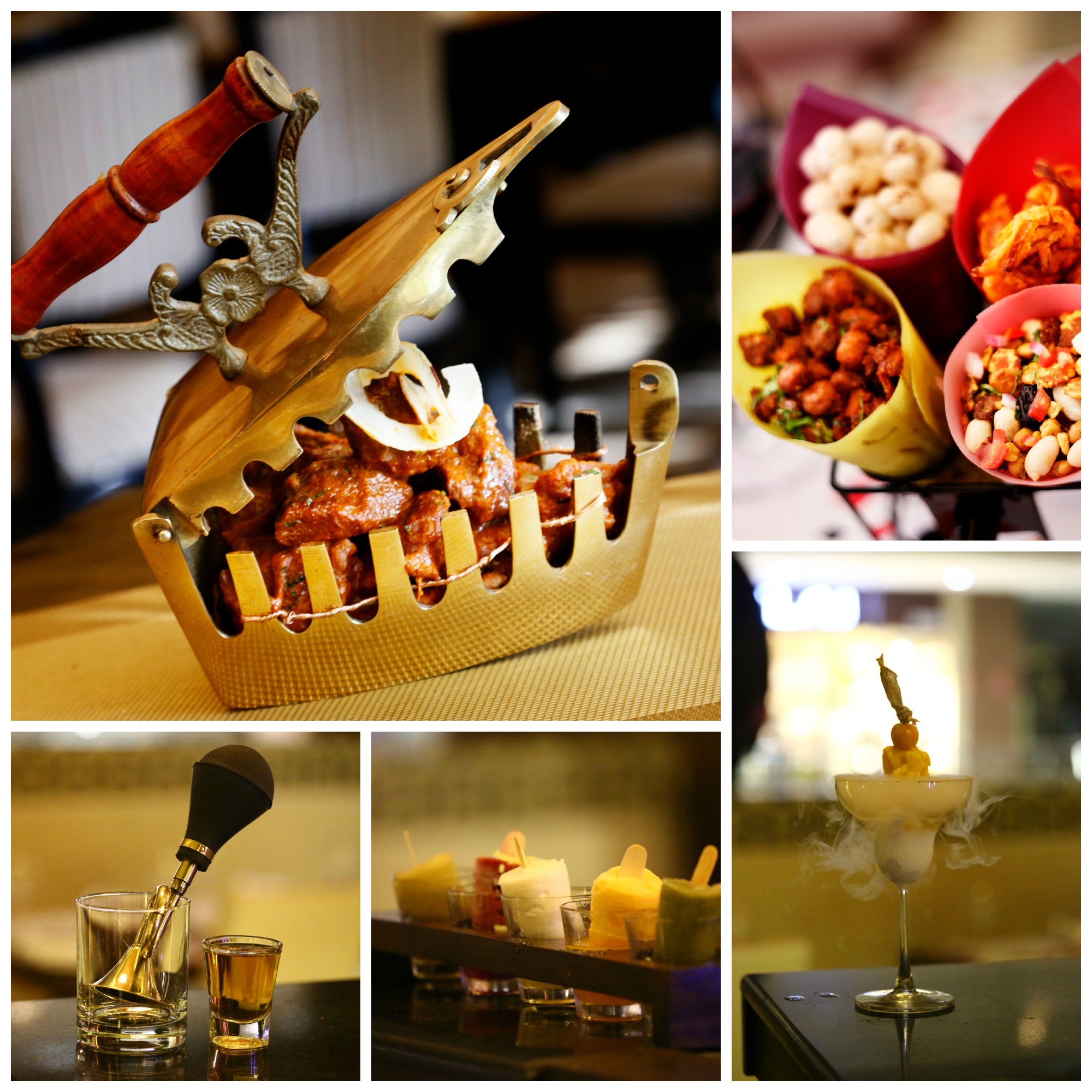 Chef Gurpreet Singh explains the inspiration behind the Old Monk RimZim on the brand-new Chakhna menu at Punjab Grill; it harks back to college time when one is perennially broke, and the low-priced rum is creatively combined with mixers to come up with the best blend. The cocktail perhaps best sums up the idea behind dedicating a whole menu to bar snacks, along with extraordinary brews— recreating funky versions of old favourites that have long made up an evening of drinking revelry and nibbling, Punjabi-style. A similar musing and consequent execution make up the experience—be it serving Amritsari fish street-style in Punjab Kesari-printed parchment paper or serving hearty mutton boti cooked in whole spices in a quirky istri (charcoal press).
Here are our picks of the menu:
Tandoori kukkad wings: Barbequed chicken wings, where tangy, sweet tamarind glaze steps in for regular BBQ sauce.
Masala nuts: Popped lotus seeds are the highlight of this trail mix-like medley, with spiced mixed nuts being the other players.
Sunny side up tuk tuk, khameeri roti: A poached egg on a bed of spiced onion-tomato masala, ensconced in a pita-like flatbread; a bite reveals the runny yolk within.
Masala paneer platter: Herb-infused tender cheese cubes barbecued and served with a blob of sweet tamarind chutney.
Mathri with cheese fondue: The fried mathri that accompanies the fondue will win approval from most Punjabi moms — the home-style flavours of carom and fenugreek are spot-on.
Ganne ka juice Margarita: A frozen margarita version of the regular sugarcane juice drink that's blended with mint, black salt, ginger and lemon and spiked with tequila.
Rasbhari Margarita: Tequila again makes an appearance in this Cape gooseberry (called 'rasbhari' in Hindi) slush; delightfully tangy and refreshing.
Niki Te Tikhi: Not your usual vodka lemon-lime, this one shines with flavours of vetiver ('khus') syrup and a hot, green chilli kick.
Old Monk RimZim: Elements of the now-discontinued chatpata cola blend fabulously with dark rum here; a smooth take on the good ol' rum and coke.
Pineapple Thandai: Traditional thandai is a cooler made with milk, nuts, herbs and spices, with bits of pineapple, served in a copper lota-ladle.
Mele di chuski: The grown-up version of the summer favourite. Shaved ice-shaped and mounted on a popsicle stick, dunked in flavoured liquids ranging from lemonade to pomegranate juice to an orangeade that brings back roaring memories of Gold Spot from the 80s, all liberally doused with vodka.
About the author
The author is the Pune head for Food Bloggers' Association of India (FBAI). FBAI is one of India's premier online news channels on food,chefs, food events and food bloggers, and is an influencer that is making its presence felt across the Indian food and beverage electronic, online and social media space.