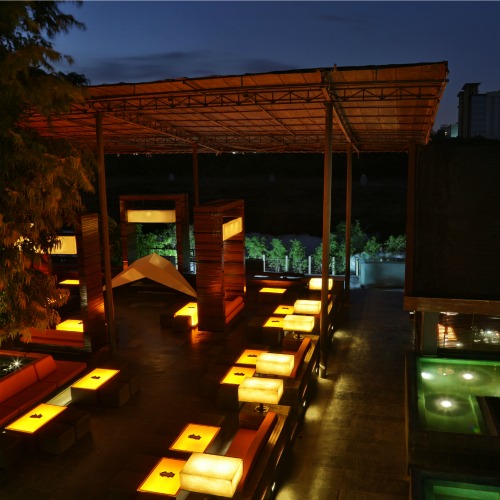 After being away from the limelight for almost a year, Pune's favourite weekend dining getaway, Stone Water Grill, is making a brand new start this weekend.
As you enter this lavish property, you are welcomed by a vast expanse of tastefully and very delicately designed lounge space. The blend of chic and elegant hues of grey and turquoise signify the bonding of water and stone, around which the theme of this place revolves. But what really adds to the beauty of this place is it's strategic location - right next to the Mula-Mutha riverbed.
With an outdoor lounge seating, bar by the river-side, and an indoor fine-dining section, the restaurant offers multiple experiences to suit the comfort of its customers. You can enjoy your meal under the twinkling stars with dramatic lighting effects, or choose to spend a private time with your special someone at the stylish indoor dining area with its ambient lighting in shades of grey, that has been especially crafted to give you a cool cave-like feel.
Moving on to the food, the restaurant has introduced an elaborate menu at competitive prices. The new menu curated by culinary expert and style chef Shailendra Kekade consists of modern European dishes prepared with contemporary flavours which is sure to tinkle your taste buds if you have a taste palates open for experiments. Chef Shailendra Kekade says, "Every dish at this restaurant is prepared to delight the diner. I believe in the visual beauty of the dish, and so have tried to give each a contrasting texture and flavour. Instead of calling it a fusion, I would like to say that the dishes are I have my dishes." But the way the chef and his team plate them on your table is something that you have to see to believe.
Some popular dishes from the menu are salads such as Soy roast duck with water chestnut with medicinal herbs and pomegranate. Every bite of this salad fills you up with a different flavour. At first, it gives a taste of a til chikki, the next bite gives a punch of fennel, and the third is a combination of sweet and tangy bhel. The vegetarians must try the mushroom galouti kebabs here which is served with saffron brioche. Seafood lovers must go for their pan-seared crab cakes or tandoor roasted vegetable salsa and red pepper emulsion. Pizza lovers can choose from various options of wood-fired pizzas. Burger maniacs should try The Great Stone Water Grill Brazilian steak burger. The Italian food aficionados can choose from a range of pastas while the meat lovers can bite into the delicious Chilli smoked duck breast, or the Tender grilled chicken with lemon and Chilli and coriander pesto.
Don't miss the absolute melt-in-your-mouth malai coconut panacotta, and if you really want to try something out-of-the-box, ask the chef for a serving of their special caramelised bacon ice-cream.