Army called in, shoot-at-sight orders in two districts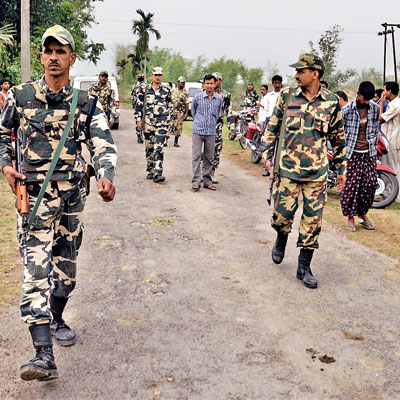 Nine more bodies were recovered from a village in Baksa district this morning, taking the toll to 32 in the violence unleashed by NDFB-Songbijit militants in Bodoland Territorial Administration Districts (BTADC) area in Assam, according to PTI.
The bodies of the victims, including four children and two women, were recovered from Khagrabari village under Salbari sub-division adjacent to the Manas National Park, official sources said.
Bodies of two children were identified as Ilina Khatun and Ariful Islam.
Three children, aged between seven and ten years, who were hiding in a forest on the banks of river Beki were also rescued, the sources said.
Earlier in past 24 hours heavily-armed Bodo militants massacred twenty-two people, including six women and three children, in three separate attacks in Bodoland Territorial Area Districts (BTAD) of Assam. The victims were all Bengali-speaking Muslims.
Army has been called in and curfew imposed in parts of the two districts. The authorities have also issued shoot-at-sight orders.
The latest of the attacks was carried out on Friday evening at Narayanguri village in Baksa district. The locals claimed the militants had gunned down at least 10 people in Friday's incident. But the police said six bodies were recovered so far.
"According to reports received, six bodies were recovered so far. However, it could go up to ten or beyond," additional director general of police RM Singh told dna. He said the militants also burnt down 36 houses.
Narayanguri is a remote village located near the Manas National Park.
The two other attacks were perpetrated on Thursday midnight in Baksa and Kokrajhar districts.
Official sources said four people, including two women and a minor girl, were shot dead when militants of the National Democratic Front of Bodoland (Sangbijit faction) went on a shooting spree near the Ananda Bazar area in Baksa district.
"A group of three to four militants were involved in the incident. They barged into two houses and fired indiscriminately killing three people on the spot. A minor girl, who was grievously injured, succumbed to her injuries on Friday," inspector general of police LR Bishnoi told dna.
Eight people, including four women and two minors, were killed in the second incident at Balapara-I village in Kokrajhar district. Locals said a gang of 20-25 heavily-armed militants were involved.
"It was midnight and we were all sleeping. Suddenly I woke up on hearing gunshots and screams. Immediately, I fled. When I returned home in the morning, I saw the bodies of my mother and my pregnant wife lying in a pool of blood," a survivor told journalists.
An ethnic riot between tribal Bodos and Bengali-speaking Muslims in BTAD in 2012 had claimed over 100 lives.
The Opposition parties besides groups and organisations sniffed a political conspiracy in the attacks given the growing dissidence within the ruling Congress in the state. They demanded Gogoi resign immediately owning 'moral responsibility'.
The attacks prompted the authorities to rush additional forces to the restive areas and Gogoi to cancel his official visit to Germany. The army staged a flag march to instill confidence in the minds of people even as curfew was clamped in the sensitive and vulnerable areas.
Union home minister Sushil Kumar Shinde called up Gogoi and assured him of all help in controlling the situation.
Reports reaching here suggested that hundreds of families fled to neighbouring Dhubri district fearing fresh attacks. Bishnoi said the administration managed to convince people in at least five villages to not flee. Adequate police personnel have been deployed in these villages, he added.
The All Bodoland Minority Students' Union (ABMSU) held Bodoland People's Front (BPF), which runs the Bodoland Territorial Council, responsible for the bloodbath.
"We suspect the hand of BPF because the attacks were perpetrated a day after BPF leader Pramila Rani Brahma's assertion that the party candidate might lose as he didn't get the votes of Muslims in the parliamentary election for the Kokrajhar seat," said Lafikul Islam Ahmed, a leader of ABMSU.
But the Bodoland People's Progressive Front believed that the attacks were the result of a 'political conspiracy'.
Non-Bodos constitute over 70% of the voters in the Kokrajhar seat. A conglomerate of 22 influential non-Bodo organisations had backed a former Ulfa leader, who contested as an independent.
"It could be a conspiracy of the state government. It was perhaps done to divert the attention of people from the growing dissidence among Congress legislators. It happened in 2012 when Gogoi was faced with rebellion from within," said BPPF leader Rabiram Narzary.