The YouTube Fan Fest which is happening on March 1, at the Bandra Amphitheatre plays host to a number of video bloggers with millions of subscribers world wide. One of the biggest names on that list is Lilly Singh AKA Superwoman. dna had a chance to pick her brain, here's what she had to say.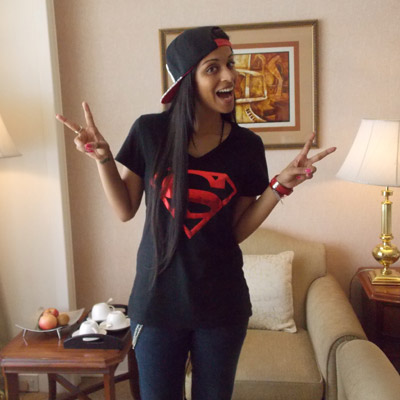 Blogging portals, YouTube, Facebook and Twitter have made it easier for people from all around the world to showcase their talents in front of and behind the camera. Lilly Singh, a Canadian born Punjabi has taken full advantage of these platforms. She is arguably one of the most popular YouTube stars out there, making her own brand of parody videos touching on a variety of topics.
Her YouTube channel is actively updated with her uniquely entertaining videos that she began filming when she was around 20. When asked about how she comes up with these out-of-the-box ideas, Singh or more popularly know by her on screen alias 'Superwoman', explains that she uses things that happen in her everyday life as inspiration for her work. People she meets, shopping, her parents, and mostly things that people complain to her about play an important role in the making of her videos. She also mentions that she's obviously influenced by other YouTubers but she says it's her parents that influence her the most.
Even though videos like 'S**t Punjabi Mothers Say' and her takes on dating and marriage are widely popular, Singh says that the wackiest videos she's done are the ones which involve dance dares, explaining that anything that's candid and not scripted is the most fun. (After which she did a little dance move)
When asked about her collaborations with other YouTubers and actors, Singh says that she can't say which is more fun, doing her own stuff or collaborations. But she does say, "It's more of an educational experience, I often learn things from them."
Speaking again about her influences, Singh says that she is highly critical of herself and she pushes herself more than anyone else.
Superwoman as a character is quite crazy on screen, but Singh explains that she is not so different from her on screen alias. "My friends say the same thing, Lilly and Superwoman are very similar, so the crazy girl you see in front of the camera is pretty much the crazy girl I am."
Many comedians make it big in the comedy industry by starting out with stand-up, or joining a comedy troupe. But with Singh, it was different. "When I first wanted to start YouTube, I actually wanted to do it in a group, but when that didn't happen I just decided to do it on my own. And from YouTube, I started doing stand-up so I feel like it was just the right time and place."
Singh goes on to explain that it was a little difficult breaking into the industry, even her parents were apprehensive in the start. "In the beginning they were like, we don't know about that." Meaning that Singh's parents weren't exactly sure if this could work as a career. But as time passed, and she shot to fame, they encouraged and supported her. "Now, my parents are my biggest supporters. My dad watches my videos all day long."
One of the fun parts about her job, explains Singh, is the convergence of cultures, which allows her to dig into her Punjabi roots as well as meet people from all walks of life.
About Bollywood, Singh of course mentions, a very noticeable influence in her work - Madhuri Dixit. She also says that if she had favourites it would be Shah Rukh Khan, John Abraham and Priyanka Chopra. "Priyanka Chopra, I have a little girl crush on her."
Even though 'Superwoman' is her screen alias, Singh admits that she doesn't know much about comic books, although she would love to start exploring them more. "People keep thinking that I would be a whiz at comics, but no, I don't know anything about comics. I just know Superwoman is better than all of them."
She did give us the origin of the name, "You know, I had the name Superwoman before I started YouTube, and then I got this ring (A ring with the Superwoman 'S' on it) and it kind of sealed the deal. Since then I've been Superwoman"
Singh ended the interview in her classic style, high fiving the interviewer and stating "Thank you for this interview, one love, Superwoman, and that is a rap."
Watch the interview here.
(Videography by Ruchi Kumar)
Read Also: YouTube stars Superwoman and Bethany Mota come to Mumbai​