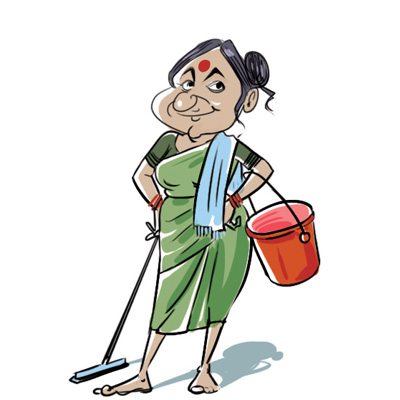 With the increasing number of high-rise buildings in the city, the demand for domestic help has also gone up, claims Gharkamgar Molkarin Sanghatna, which is affiliated to All India Trade Union Congress (AITUC). The sanghatna also claims that even girls who are getting formal education are taking up such jobs too.
Eknath Mane, president of sanghatna, said, "The increasing number of towers has increased the employment opportunities for domestic workers. Earlier, if a woman was working in one house, now she has three to four houses to cater to. The demand for women who can cook varieties of recipes is very high. She is paid anything between Rs3000 and Rs5000."
The sanghatna has around 5,000 domestic workers registered with it. It helps the maids whenever any injustice is done to them. It also helps them to get benefits through various government schemes.
Giving an example of injustice, Mane informed about a high-rise on Jogeshwari-Vikhroli Link Road which had scheduled a particular time for the maids to use the lifts. At other times, they were forced to take the stairs. Mane said, "I had to interfere and force the society to allow the maids to use one lift all the time. Such complaints keep coming to us."
According to Mane, a maid has taken up work in more than one house to help her daughter get the best education. A girl, who is studying in college, is doing also domestic work to support her studies."
Tanuja Ghagre, a maid, said, "It's true that with more and more towers coming up and the scope of domestic work is increasing. But some people who live in big flats are still not generous when it comes to paying us. They should pay by the area of their flats. Also, as they want our identity proof, the owners should also give us their proof so that if there is any injustice, we can approach the authorities."