Fit as a fiddle, taking on the family legacy, trustee and founder of an educational institute at the mere age of 26. Read on to know more about Cuffe Parade resident Arjun Kapoor.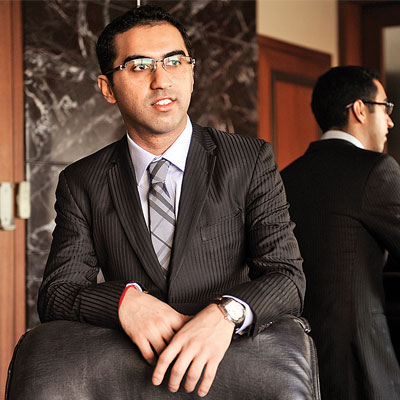 Virile grunts and monosyllabic expletives complementing the vigorous burpees and squats, all peppered throughout his hour-long gruelling Crossfit workouts; you would take a double take if you were told that the youthful Punjabi man dampened in sweat standing before you spent more time in an office than in a night club. Cuffe Parade resident Arjun Kapoor is the youngest of three siblings and incidentally the only boy in a family driven by a successful construction company. A responsibility that he seems to have caught on early enough to steer away from the quarter-life wallowing pit of nothingness that many his age seem to be slowly drowning in.
Campion school, HR college, Nottingham Trent University, a short stint in the construction arena of Dubai before its real estate bubble burst and finally, a position in the family business that pretty much fell into his lap. Kapoor's life has been freckled with enough episodes to keep him on his toes, at all times. A typical day for him is behind an office desk discussing projects such as a Powai-based high-end residential apartment complex (or what he refers to as his 'baby') and ending with a backbreaking session of Crossfit-training before finally enjoying priceless moments with his nephews, Aarav and Abhir.
Foray into education
So, is that it? A boy who set foot in an-already-established successful company? Not too different from any other zealous eager beaver out there looking to attain heights at an early age with the help of 'daddy's money' you would say. Not really, if you add to that the fact that Kapoor has officially added the credential of being the founder and trustee of DRIEMS – Dilkap Research Institute of Engineering and Management Studies, an MBA and engineering college not too far from Karjat. Construction and education, how is that for an eclectic combination of entrepreneurial ventures for the Kapoors? Kapoor explains that having had enough land bank to play with, his father, Dilip Kapoor, and himself began flirting with various opportunities, some lucrative, some a lot less before deciding to open a college. "Providing international quality education to students who do not always have the opportunity to travel abroad, all enclosed within a campus of high standards; we knew we were onto the right track," explains Kapoor, enthusiastically.
Quite high in the office hierarchy, Kapoor does not shy away from what he feels could be an iron in the fire. Having studied risk management and business studies in financial services in Nottingham, Arjun was anything but thrown off balance when facing the exhaustive list of challenges while putting together the college. The task took over two years before it opened its doors in 2009. Affiliated to Newcastle College and SouthBank Side College in England, he now prides himself on the 2,000 odd students who are registered at DRIEMS, all with the help of advisors and well-trained faculty. With tennis courts, a gymnasium and other facilities he intricately worked on putting together with the help of his father, DRIEMS, he believes, has a campus that no other college in the vicinity can boast of.
His friends know him as the man who spends hours at the dinner table gobbling down a minimum of two mountainous plates of food. His family knows him as the young boy whose wisecracks leave everyone giggling away but in fact, the crinkles on his forehead reveal just what awaits him in the future.
And yet, by the age of 30, Arjun is looking at another college and numerous construction projects to add to his belt of achievements. Not your typical 26-year-old, you'd say, wouldn't you?