Siddhanth Lohia, Ruhaan Mahindru and Dev Shah can't get enough of goofing around.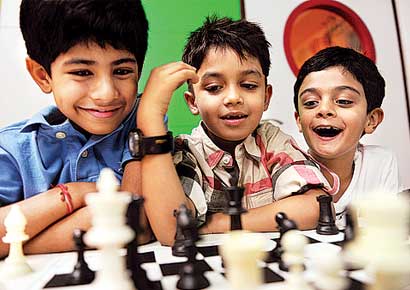 Siddhanth Lohia, Ruhaan Mahindru and Dev Shah can't get enough of goofing around. The giggling students of Dhirubhai Ambani International School love simply running around as much as their Oreo biscuits. Get them near a chess board, though, and they are completely transformed — and transfixed.
Their moves have taken several by surprise. And they are now paying off. The trio will represent the country in the World Schools' Chess Championship, or for the uninitiated, the 'world cup' of school chess, in Greece from May 6-15
"Siddhanth has a four-hour training session every day, and he enjoys them. He took to chess two years ago and picked it up quickly," says Sheetal Lohia, the mother of the seven-year-old.
What Siddhanth brings to the table, besides his moves, is his characteristic aggression. He never settles for a draw, even if it means losing at the end of a four-hour-long game," explains Lohia.
This determination helped him bag the silver at Asian school championships in December last year. l Turn to p18
He was the seventh youngest player in the world to be rated when the international FIDE ratings were announced in June 2012, when he won the state championship in the U-7 category.
That winning is all that Siddhanth aims at becomes clear when pat comes his reply to questions about his future plans. "I want to win every game that I play!"
Ruhaan, a seven-year-old who's from the same school, had stood sixth at the ASEAN Youth Championship in Singapore in 2012 . Twelfth on the world ranking list, he is the state's highest ranked player.
"He took a strong liking to chess at the age of four. That's why we wanted to groom him. The South Mumbai Chess Academy (SMCA) has played a great role in this, and so has his school, which has been very co-operative in letting him go for tournaments," says his father, Ranjeev Mahindru.
It's the youngest of the lot, Dev, though, eveyone's pinning hopes on. The five-year-old's coach at the SMCA calls him a "special talent". Dev bagged two golds and a silver in three different formats of the game at the Asian School Championship last year.
There's more. He can easily make about 20 moves, blindfolded!
"When he bagged those three medals and was felicitated by [grandmaster] GM Krishnan Sasikiran, we realised how gifted he is. At his age, it is amazing how much passion he has for the game," says a chuffed father, Rahul Shah.
Dev's role model isn't anybody from the chess field; it's MS Dhoni. H reportedly even has the cricketer's gait down pat. "He carries a cricket bat in one hand and a chess board in the other in the evening," says Shah.