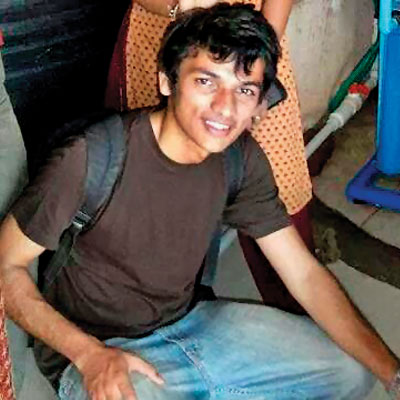 A 24-year-old biker skidded on the Link Road in Borivli (West) late on Thursday, suffering serious head injuries that could leave him in a vegetative state permanently.
A social worker, who picked up the young man from the road and took him to hospital, has alleged that he was not given proper treatment in time, which resulted in his condition worsening.
After being taken to the private MM hospital in Borivli and then to the civic-run Shatabdi hospital in Kandivli, the youth, Rohan Sardar was admitted to Kokilaben Dhirubhai Ambani Hospital, in Andheri (West), where he lies in a comatose state.
Sangeeta Salve, the social worker who also going along Link Road, said, "I heard a loud noise, like that of a tyre burst. When I saw Rohan on the ground I stopped an autorickshaw and rushed him to MM hospital, in IC Colony, at Borivli (West). But the doctors refused to admit him."
Dr Narendra Jain, medical director, MM hospital, explained, "The patient needed an emergency MRI/CT scan. We don't have MRI/CT scan facilities. The patient also required immediate care under an expert neurosurgeon, so we advised that he be moved to a better hospital." The MM hospital's website claims that emergency services are available at the institution 24x7.
The social worker then took the youth to Shatabdi hospital. By that time Rohan was bleeding profusely from the wounds on the head and had developed blood clots. "At about 1am, two hours after he was admitted, X-rays were being taken. They had not initiated MRI or CT scans," said Salve.
Dr Mangesh Budhkar, deputy medical superintendent at Shatabdi hospital said, "The general surgery registrars were administering injections and other treatment in the ICU. But scans were not taken. We do not have a neurosurgery department or neurosurgeons to tackle these cases."
Rohan's father arrived at Shatabdi hospital at about 2am and shifted him to the Ambani hospital. The youth is a student of chartered accountancy.
"If he was brought to the hospital earlier, the damage could have been limited. We operated on him. The damage to the right side of the skull and brain stem is so extensive that if Rohan survives, he would in all probability, be in a vegetative state for the rest of his life," said a doctor at Ambani hospital.
The boy's father, Raju Sardar, was not able to say much. But a relative commented: "If doctors at Shatabdi hospital were not confident of treating him they should have referred him immediately to an institution which has expertise in neurosurgery."