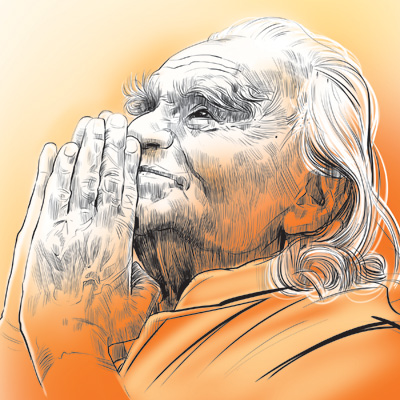 Belur Krishnamachar Sundaraja Iyengar, 'rockstar of yoga', passed away at 3.15am on Wednesday in Pune. He was 95. He was admitted last Tuesday to a hospital after complaining of breathlessness.
His students included J Krishnamurthi, Jay Prakash Narayan, Achyut Patwardhan, Acharya Atre, Aldous Huxley and Yehudi Menuhin. Iyengar also helped queen mother of Belgium, Elizabeth, master Shirsasana while she was 83.
The why-and-wherefore of 180 yoga centres worldwide—even as 500 certified instructors teach what is respected as 'Iyengar school of yoga'—resisted efforts by his family to shift him to a hospital earlier. Daughter Geeta Iyengar (70), who with brother Prashant is an internationally acclaimed yoga teacher and author of books, recounted: "He invoked his 'superhuman' guru Krishnamacharya who used pranayama to reportedly stop and control his heartbeat, non-surgically mend a fractured hip when 96 and lived to be 108 refusing to go to hospital for nearly three weeks."
Stalwart vocalist of Gwalior gharana, Neela Bhagwat, said: "He will live on in the breath of every sadhaka. Do you know, Iyengar Yoga is an entry in Oxford dictionary? What an honour for India!"
"At 71 when people praise me for holding a note for a long time, I credit it to guruji's teachings," she added.
Miami-based yoga teacher Kino MacGregor, whose own guru K Pattabhi Jois and BKS were contemporaries training under Krishnamacharya, said: "BKS went about re-discovering all missing links in the 8.4 million yoga asanas. He condensed these to around 200."
American instructors Patricia Walden and Manouso Manos called him "a saviour whose work touched the lives of whoever he came in contact with." Others like TV journalist Noako Yagyu of Japan credited him "with supplanting the cosmetic Oki yoga of Japan with going beyond the self."
Mumbai-based yoga instructor Shameem Akhtar calls him the boldest yoga-guru. "Unlike others, he wouldn't shy of prescribing the most difficult asanas and being absolutely strict about executing them perfectly," she told dna.
Akhtar recalled him telling her in Dec 1998 on his 80th birthday: "I'm the proudest man on earth for carrying yoga to millions the globe over."
The once 'puny-chested-child' was born during the 1918 influenza epidemic in Karnataka's Belur village and was battered by malaria, tuberculosis and typhoid in his childhood. "I looked sickly, with thin limbs, a protruding stomach and a heavy head. I felt like committing suicide, never played, had no books to read. My body was stiff since I had been bed-ridden," he told Akhtar.
His brother-in-law and guru Yogacharya T Krishnamacharya bulldozed him into teaching a clutch of mocking collegians when he weighed just 32kg. He shoved 16-year-old onto the stage having taught him advanced asanas in just three days. Once on stage, Iyengar contorted himself through the complex Hanumana-sana and Vrschikasana by merely following guruji's instructions. On one such mission he tore his hamstrings and was laid up for two years.
His daughter Geeta observes how the guru-shishya tie was stronger than the family one. She recalls how it was strained briefly due to J Krishnamurthi attempting to create a rift. "Even when 60, he'd do every little thing for his guru, like a young boy."
But that did little to stop the man who once earned six annas for a posing session. While the US has named a star in northern hemisphere after him, Cambridge's International Biographical Centre stars him in their constellation of 20th century's 2,000 outstanding persons and the French govt honoured him at a special ceremony by pouring Ganga jal in France's Garonne river. His jaw-dropping-contortions in the biographical documentary, Samadhi, still evoke wonder. The sickly 'back-bencher' has shot to the forefront as 'the oldest living practitioner,' imbibing early on Mahaguru Patanjali's lesson that of the 13 blights on a human, only two were physical.
"The mind-body synchronicity," Iyengar often said, "can stem all physical rot—from asthma, ulcer, spondilytis, even drug addiction to AIDS."
Even as he's feted the world over with many like the San Francisco University creating a four-year syllabus on Iyengar yoga, he often rued how Indians still took yoga for granted. Most of his discourses included the line, "Live happily and die majestically." And Iyengar did just that, at 95.