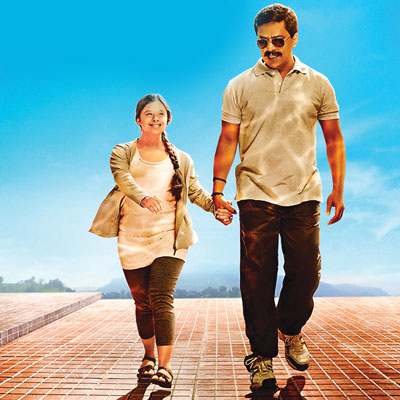 In a first, a movie, Yellow, based on down syndrome (DS), will have both the lead characters being portrayed by two girls actually afflicted with DS.
This positive story of a relationship focuses on how every child is unique in abilities, and how this uniqueness can blossom if parents nurture them with patience and determination.
Though the announcement of its release was made on the eve of World DS Day on Thursday, Yellow will be released only in the first week of April.
The plot of this real-life movie, directed by Mahesh Limaye and produced by Ritesh Deshmukh, revolves around a girl with DS, whose mother fights for her.
"We wanted it to be a positive story of the girl with DS and her march towards success. After doing a mainstream film as a cinematographer, this was my first attempt to take up a dual responsibility. And I knew what I would be bringing to the table in terms of the 'look' of the film. Working with special children was a life-time experience for me," Limaye told dna.
The filmmaker did a four-month research on the subject before planning the shoot.
"We visited quite a few special children schools, interacted with the staff, parents and observed the kids closely. And this led to discovering many overwhelming success stories," says Limaye. "These kids know how to live life to the fullest. Their capacity to love, and smile even at complete strangers is amazing," he added.
"The core idea was to tell a story of special kids that would inspire millions to help others live their dreams, and it's the need of the hour. This film is not just a medium to spread a social message. I went a step further and have attempted to bring a change in our society."
It was by pure chance that he met Gauri Gadgil, 22, in Pune. And her passion and dedication for swimming left Limaye so impressed that he decided to cast her as herself in the movie. Finding someone to play the younger Gauri was, however, not as easy.
Casting Sanjana Rai (the younger Gauri) took much longer. "I knew it would be a big risk to cast amateurs, and that too in the roles of special kids. But then there is no fun if you don't challenge yourself. During the shoot both the kids were treated like normal kids. I made sure no one over-compensates them with sympathy as that would create problems."
A matriculate from National Institute of Open Schools, Gauri switched to a regular college, SP College, Pune, for her HSC, and has resolutely insisted on independence as far as possible. Her proud mother, Mugddha Gadgil, became emotional while recounting the challenges Gauri had surmounted to reach where she has.
"When I heard she was going to act in a movie I was nervous; but it's come out well. As the parent of a special child, the joy and pride I feel when she accomplishes small things like eating on her own, tying shoe lace, swimming, etc are indescribable. For me those are major achievements. So, you can imagine how overjoyed I am about my daughter having acted in a movie," she said, her eyes brimming with tears.
Down syndrome is a condition in which extra genetic material causes delay in the way a child develops, both mentally and physically. The physical features and medical problems associated with down syndrome can vary widely from child to child. While some kids with DS would need a lot of medical attention, many others lead healthy lives.