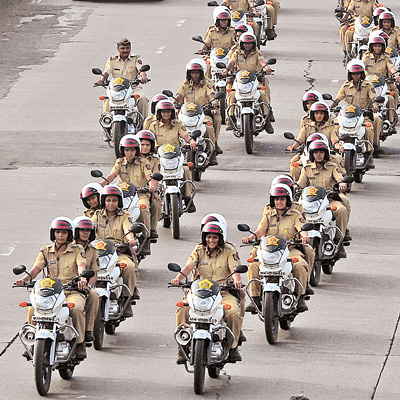 On Friday, it will be a year since the shocking Shakti Mills gang rape shook the city. The incident had not only shamed Mumbai by raising questions on safety and security of women, but also forced the city police to put in place a series of initiatives for the same. Now, officers say, they are sure that with a number of safety measures in place, such instances can be avoided, provided there's active cooperation from citizens.
On August 22, 2013, a 22-year-old woman and her colleague had visited the deserted Shakti Mills compound for an assignment for the magazine they were working with. Five youths, including a minor, all having criminal record, first lured them in saying they could show them a better place for photography inside the mills, and later, took turns to rape the woman after beating up her colleague.
The incident had caused nationwide outrage, with people coming out on streets to protest, forced the government to take prompt action against the culprits. The case was put on priority with home minister RR Patil directly monitoring it. The best officers from the city police were put on the job and sketches of the suspects were made.
The police had also managed to gather criminal records of the suspects, and crime branch soon managed to apprehend all five — Salim Mohammad Quddus Ansari, Mohammad Kasim Mohammad Hafiz Shaikh alias Bengali, Siraj alias Sarju Rehman Khan, Vijay Jadhav, and a minor.
On September 3, a 19-year-old telephone operator too had lodged a police complaint that she was raped inside Shakti Mills on July 31, 2013, by five youths. Three of them were repeat offenders — Salim Ansari, Kasim Shaikh and Vijay Jadhav.
The sessions court had found Vijay Jadhav, Kasim Shaikh, and Mohammad Salim Ansari guilty in the photojournalist gang-rape case under an amended section of the IPC, which entails death penalty for repeating an offence, and awarded them death penalty in April this year. The fourth convict, Siraj Rehman Khan, who was involved in the photojournalist gang-rape case, was sentenced to life imprisonment.
Following this case, the Mumbai police did an audit of abandoned and isolated places in the city and found out that there are 144 such places in the city, where women are vulnerable.
"Letters have been issued to authorities concerned informing them about the measures that need to be taken to safeguard such places. Apart from this, we have also increased police visits in these areas," said a senior officer.
"There are several initiatives we have taken following the Shakti Mills gang-rape case and Esther Anhuya murder case. If citizens actively participate and cooperate with the police, such instances should not recur in the city," said joint commissioner of police, law and order, Dhananjay Kamlakar.
Safety measures for women
Anti-Sexual Harassment Squad at every police station
"The squad will be patrolling in market areas, places of worship, schools and colleges. The squad will comprise women officers," said a senior police officer.
SMS helpline for commuters
Under 'Travel Safe When Alone' initiative, any woman, before taking an autorickshaw or taxi, can message the vehicle's registration number to a dedicated helpline number 9969777888. The police will keep track of that vehicle and get her location through GPS. "This message service will act as a deterrent, discouraging taxi and auto drivers from taking to crime. Women will get an acknowledgment once they send the SMS. Police will have the capacity to store up to a crore messages for a year," said an officer.
Help desk at rly terminals
At five railway terminals of the city, a help desk has been made to assist those women who are alone and want to hire a cab. Working from 8pm to 8am, it maintains a register of women passengers and details of the cab and its driver they hired.
ICE application for mobile phone
In Case of Emergency (ICE), a free android mobile phone application, was launched this January. It allows a person in distress to send out immediate text alerts to contacts saved in the application. The app can be easily downloaded from the Mumbai Police website (www.mumbaipolice.org).
Anti-eve teasing squads in colleges, schools
The Mumbai Police are mulling over stationing college students at the help desk in every police station to help women, children and senior citizen complainants. They are also working on a plan to create anti-eve-teasing squads in colleges and schools, with members being students. Commissioner Rakesh Maria said plans are afloat to start the squads soon. "Every constable from a police station will be in charge of the students' squads of 2-3 colleges/schools," he added.
Protection when visiting isolated places
Former Mumbai Police commissioner Dr Satyapal Singh has instructed all police stations across the city to provide security to women who wish to visit old and secluded places and areas in the city. The police stations have also been asked to display telephone numbers of the protection and security (P&S) branch so that women can call and seek protection.
"Only in case of an emergency, wherein a woman has to visit a sensitive, isolated or abandoned place for work, and if her superior is unable to provide security due to shortage of time, police department should provide the security," said a police circular.
"Those women who want to get protection in such a situation should call on the P&S control room numbers — 022-24691659 and 022-22620314. The control room should send in writing to the DCP (protection) about the requests received by it for protection," the circular concludes.
All-women beat marshals
In the wake of increasing crimes against women, the Mumbai police on Wednesday launched teams of women beat marshals, who will patrol the city and will be trained in driving, martial arts and handling arms. They will patrol in shifts near schools, colleges and places where women are likely to be subjected to crimes.
ACCUSED PROFILES
Vijay Jadhav
A small-time criminal, the 18-year old has been allegedly involved in burglary and theft cases. He resided in Indira Nagar slum colony at Dhobi Ghat with his parents, an elder brother and a younger sister. Jadhav has studied till Std VIII in a local Marathi-medium school on NM Joshi Marg. His family hails from Rajapur town in Ratnagiri district. His father works as a labourer in a small company, while his mother works as a maid servant in a nearby housing colony in Agripada. His elder brother works as a labourer, while his sister studies in a local school.
Jadhav was arrested by the Tardeo police in September 2011 for allegedly stealing electricity wires worth Rs12,000 from an electric shop in Lower Parel. The case is pending in court. He also indulged in stealing scraps from a railway yard. He is addicted to alcohol and contraband.
Mohammad Kasim Mohammad Hafiz Shaikh alias Bengali
Hailing from West Bengal, Kasim lived in a slum colony near a petrol pump in Agripada's Kalapani area with parents and two unmarried sisters. He is a history-sheeter and was earlier arrested by the Tardeo police in a dacoity case in 2011. His father was a labourer, while his mother was working as a maid servant in a nearby housing colony. He is addicted to alcohol and contraband.
Juvenile accused
The 17-year-old is a small-time criminal and stayed with his 67-year-old grandmother and elder brother in small room in Jai Bhavani Nagar slum colony, Dhobi Ghat. His mother died when he was young. His father, an alcoholic, stays in a slum colony in Santa Cruz. The teenager was working on a poultry farm in Agripada, claimed his grandmother, but, the police said, he was involved in theft cases and has been arrested by the Agripada police in a case two years ago. He is addicted to alcohol and contraband.
Siraj alias Sarju Rehman Khan
The 24-year-old hails from Lucknow in Uttar Pradesh. He is a small-time criminal involved in theft and robbery cases. He stayed with his 65-year-old mother in Sai Baba Nagar, Dhobi Ghat. His father Rehmat Khan died a long time ago. His elder brother Mehraj died in an accident a few years ago, while another brother Mukhtar was engaged in farming in their native place. His sister is married. He studied up to Std I in a local municipal school in Agripada. He is addicted to alcohol and contraband.
Salim Mohammad Quddus Ansari
A resident of Mahul near Vashi Naka in Chembur, the 26-year-old is a railway scrap thief and sells stolen railway scrap to wholesalers, the police said. He has a theft case registered against him at NM Joshi Marg police station. He frequented Dhobi Ghat area in Agripada to meet his group members. On his instructions, the members would assemble on Shakti Mills premises. He would then distribute money got after selling stolen scrap material and wires.