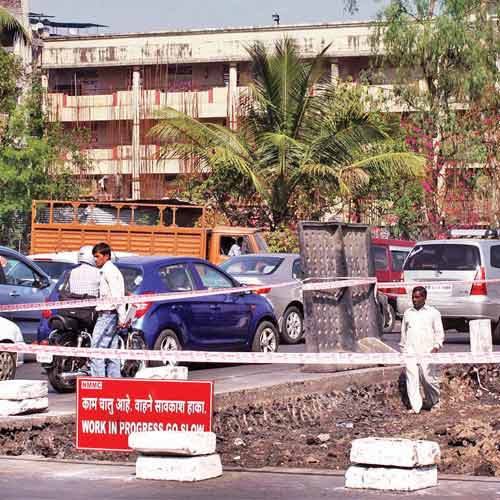 The flow of traffic on the Vashi stretch of the Palm Beach Road has been seriously thrown out of gear, thanks to a concretisation work underway at the Arenja Circle near sector 17, Vashi.
The Navi Mumbai Municipal Corporation commenced work on the concretisation of the road around the garden island in the middle of the square, two days ago.
The area around the island has been cordoned off, restricting the traffic of the four roads passing through the circle to just two, resulting in traffic jams on all sides.
The worst affected are motorists commuting on the Palm Beach Road, either going towards Mahape or towards Belapur. A resident of sector 29, Vashi, said, "I was stuck at the Arenja signal for a good 20 minutes, where earlier negotiating that signal was a matter of just two minutes. The traffic extended all the way till Celebrations."
Their plight is expected to continue for a while since work on this project will take time to be executed.
Even bus and auto rickshaw drivers are facing traffic problems for a couple of days. Commenting on the work, deputy commissioner of police (traffic) Vijay Patil said, "The construction work will last for three months."
School children who usually take this road are also facing a major problem as they are reaching late for their classes. "Children are getting late due to traffic on this route and they at times end up missing their lectures," said Suvarna Sonawane, a parent.
Not just children and motorists, even the shopkeepers near Arenja Circle are getting inconvenienced. A shopkeeper, requesting anonymity, said, "There is heavy traffic in the node for the last two days due to construction work."
Meanwhile, the traffic police have deployed extra personnel at the Arenja Circle to guide the movement of the slow traffic and prevent a breakdown of the traffic situation.
Despite repeated attempts, the city engineer Mohan Dagaonkar could not be reached for comments.