If Wonder Woman was real, she would probably bein the guise of a single mother. Meet four such incredible Downtown women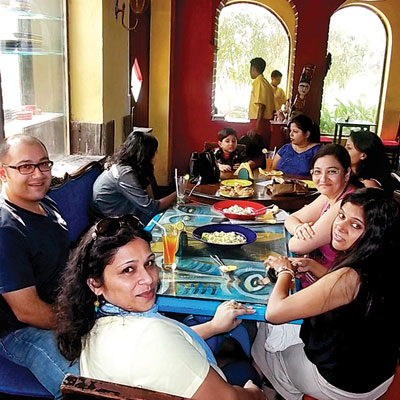 Being a single mother is no cakewalk. You have to master the precarious art of being both parents to your children all day, every day, while handling the slog of seamlessly running a home and dealing with the pressures at work. We talk to four wonder women from South Mumbai.
Zarina Elias, widowed at an early age, struggled to raise her two daughters, while living on her own and working in her family business. Rageshree Porecha's marriage dissolved when her daughter was not even two years old. Shilpa (surname redacted) has sole custody of her daughter and works full time at an MNC, a job which involves a great deal of travelling. It was only after Shaista Virani separated from her husband that she completed her MBA and started working.
A welcome change
Being a single mother can never be easy; gradualy, however, the world is turning around and people are beginning to embrace the idea of single motherhood. Says Elias, "Being a single mom was a taboo, although less so for widowed ladies. Nowadays though, it is a little better. Women can be more open to the idea of single motherhood."
Sunil Arora agrees vociferously. Executive director of Bal Asha Trust, a Mahalakshmi-based NGO that works to empower destitute women and children, and VP of the Federation of Adoption Agencies, Maharashtra, he has been supervising adoption by single mothers for many years. The turning point came when Sushmita Sen chose to become a single mother, a proceeding that he oversaw. The agency was immediately engulfed by a deluge of single women looking to adopt. While the wave has receded a little, Arora believes, "People are certainly becoming more supportive of single mothers, depending of course on how open and committed they are."
Uphill task
Emotional insecurities often lie beneath the churn of worldly worries of single mothers. Says Elias, "The downside is that often there is a lot of guilt. Sometimes, you may have a bad day and no one to talk to, so you tend to bring it out on the children. It is incredibly tough being a mom 24 hours." Shilpa says, "It is definitely hard. I am unable to spend enough time with my daughter as I have to manage work and my daughter's needs. I have to ensure her financial security as well as her developmental needs. I rarely find time for myself." To top it, these mothers often face social isolation. "I have seen people's negative attitude towards single parents in schools; in fact certain schools are against the idea of giving admission to kids whose parents have separated," adds Shilpa.
The dating game
Fortunately, it is getting easier for single mothers to dip a tentative toe into the dating pool. All thanks to Varsha Agnihotri Vadhyar, COO and co-founder of Footloose No More, a new age marriage platform. Sympathetic to their cause, Agnihotri reveals a poignant instance when she spotted a young man dawdling around at an event. "I asked him what he was doing there, as entrance to the group is only open to those over the age of 28. He replied that he had brought his 50 year-old mother to the party. He felt that she did not have a life apart from him," she sighs.
Wind beneath their wings
While many speak of the affronting stereotypes that blanket single mothers, it is heartening to hear all four women speak of unalloyed support from family, friends and colleagues. Virani, a Mazgaon resident, says, "My colleagues are extremely supportive and so is my organisation. I am given flexibility whenever I need it." Walkeshwar-resident Porecha also enjoys complete family support. "Of course," she admits, "living with my parents has helped me bring up my daughter with family values." All four mothers agreed that without the support of their parents, their parenting might would have floundered.
Mumbai still lacks organisations or support groups for single parents, a void that Elias feels deeply about. "I never found any support groups; I wish there were some. It is something most single mothers require and would really help us cope. After all, there are some things only single mothers can understand."
"No matter," says Shilpa. "Single motherhood is liberating in a way, as you discover that you are capable of handling much more than you could have ever imagined," she explans. Elias agrees, "The advantage is that you grow with your kids. Also, all decisions are taken by one parent. While that may put pressure on me, it helps tremendously in building my confidence, say, when travelling alone with children, women are usually accustomed to having a husband or some man around to take care of things." But Virani has the last word. "My daughter has found a complete family, including a father figure in her grandfather and a sibling in her cousin. In fact, she often tells people she is blessed with three mothers instead of one—her grandmother, aunt and me."