Newly inducted NCP state president says he is confident about a win in the assembly polls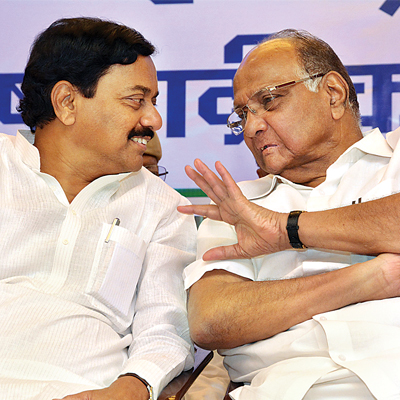 Newly-appointed NCP state president Sunil Tatkare began his tenure on a war footing by making it clear that the party was very miffed with its ally, the Congress, for not easing out chief minister Prithviraj Chavan.
"The NCP will not contest the upcoming state assembly elections under the leadership of Chavan. We can be led only by our president Sharad Pawar and no one else," he said.
However, Tatkare, who resigned as water resources minister before assuming his new post, asserted that his party would jointly fight the polls with the Congress. "We will have an alliance with the Congress. There are some glitches regarding seat-sharing, but these issues will be tackled soon," he said.
Tatkare had hit the headlines two years ago for his alleged involvement in a multi-crore irrigation scam.
Interestingly, NCP MP Udyanraje Bhosale, a descendant Chhatrapati Shivaji, said, "Chavan is an efficient leader who is taking all socially important decisions. Actually, the NCP and Congress should fight the elections under his leadership only."
Pawar had recently claimed that the Congress leadership had decided to remove Chavan. However, party president Sonia Gandhi is yet to take a decision on this. In fact, she recently gave Chavan a patient hearing when he reportedly told Gandhi that he was being targeted because he refused to clear the files of an influential builder.
Tatkare said the state assembly polls were his main target. "These polls will be different from the Lok Sabha elections. Here, the issues will be different and as a government in power for the last 15 years, we have taken many good decisions. We are confident that this time also, people will vote for us," said Tatkare, adding that the focus will be on Maratha and Muslim reservations and the LBT issue.
Talking about seat-sharing with the Congress, he said that in 1999, the Congress had won more Lok Sabha seats, so in the assembly elections they had given NCP fewer seats. "Now, in the Lok Sabha, we won four seats while the Congress only bagged two. Naturally, we will have an upper hand in seat-sharing this time," said Tatkare.
Senior NCP leader Praful Patel said that in the Lok Sabha, the atmosphere was against the Congress. "Therefore most of us lost badly. However, in the state elections, there is no such thing, because that anti-Congress wave has ebbed," he said.