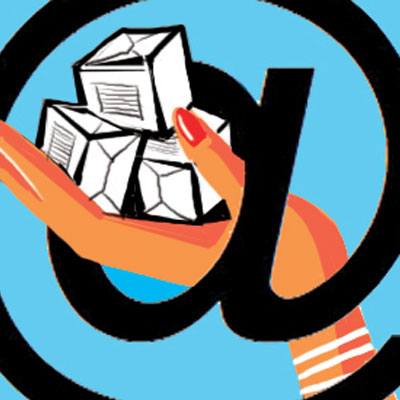 Teacher-turned-entrepreneur Keyuri Goshar, 42, launched her store, Beyond Toys & Gifts in Chira Bazaar, South Mumbai, in 2008. She started by selling toys, books, games for kids and stationery, among other things through the eBay marketplace. Servicing 30-40 orders daily (only from eBay), Goshar now has four employees to help her out with the daily operations.
Goshar is among the growing tribe of women entrepreneurs who have broken into the male-dominated e-commerce business and sell anything from apparels to cosmetics and toys. The online marketplace enables them to take their venture across India without having to worry about cost overheads. Goshar told dna that the surge in online shopping in the last few years has been a boon for women entrepreneurs like her.
"The marketplace model helped me start and grow my business. Now I am adding more categories and have recently started selling fashion (cosmetics) products as well. The plan is to add home kitchen equipment and home decor products to my portfolio in the near future," she said.
Deep Shikha Malhotra, a certified financial planner, took the entrepreneurial plunge three years ago after having a tough time searching for home linen products. The resident of Panipat, Haryana, launched Chhavi Enterprises using the Tradus.in marketplace and currently sells a range of handloom, home furnishing and home decor products across various e-commerce platforms, including Amazon.in and Shopclues.com.
"Home furnishings as a category is cyclical and sees 300-400 orders during non-festival season; the figure more than doubles to 1,000 during the festive seasons. Our study of online shopping behaviour shows that fashion and apparels have a more consistent demand, so we have started selling men's apparel too. We will gradually populate more products and categories to have a good balance of volumes through the year," said Malhotra.
A single-person entity, Chhavi Enterprises has eight people working for it. "It's been a fantastic journey as we have seen our business grow by 50 per cent. We entered the market at a time when online shopping had already started getting good traction. Apart from this, our product portfolio coupled with attractive pricing helped our business in a big way," Malhotra told dna.
There is no official data on the number of women entrepreneurs in the online marketplace. But Radhika Aggarwal, co-founder and chief marketing officer, Shopclues.com, pegs the number to be around 10% of all the sellers. "At Shopclues, we have 40,000 merchants and approximately 4,000 are women," she said.
Women entrepreneurs excel in selling jewellery, lifestyle, fashion, designer/ethnic products, cosmetics, home decor/furnishing, toys and games, books and stationery items, etc. Art and gourmet foods are among the new categories which are becoming popular.
Deepa Thomas, eCommerce evangelist, eBay India, said a marketplace model offers women the flexibility to conduct their business at their own convenience. "With minimal costs, women are able to start and expand their business by operating from their comfort zone. In case of eBay India, they also get to leverage the global presence by exporting their products across the globe. Also, category teams help merchants at every step (from taking photographs to listing merchandise), thereby creating a comfortable environment for women entrepreneurs to operate," she said.
An indication of the rising number of women entrepreneurs taking the marketplace route is Flipkart's first sellers' meet held in Mumbai recently. Of the 70 merchants who attended it, 12 were women. "It is a very encouraging number. This is also a clear indication of the growing popularity of marketplace with women entrepreneurs," said Ankit Nagori, vice-president – retail (marketplace), Flipkart.
Officials from Amazon, Snapdeal, Myntra and Jabong refused to share information about the growing tendency of women entrepreneurs on their respective platforms. However, several industry players acknowledged that the number of women entrepreneurs will increase substantially in the near future. "The number can easily reach 20-25% in the next few years," said Aggarwal.
According to a recent Forrester report, the Indian e-commerce industry is expected to grow at over 60 per cent and globally around 10 per cent. "In evolved markets, e-commerce enjoys a 10-11 per cent growth rate vis-a-vis physical retail sales, which stands at 2-5 per cent. What is important to note is that the India story is not about size, but about the growth rate," Thomas said.