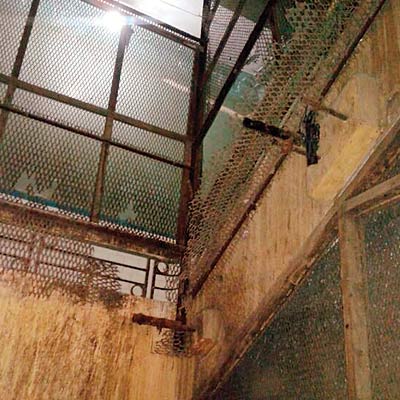 A 38-year-old HIV-TB woman patient died under mysterious circumstances after she fell into an empty lift duct at the Sewri TB Hospital in Parel on Monday.
"The spot from where she fell is a highly unlikely place for anyone to commit suicide. We are probing the possibility of an accidental death," said Dr Minni Khetarpal, city TB officer. Kidwai police station is probing the matter and is yet to register a case.
Hospital authorities said that while all wards have been secured with grills, the wire mesh on the first and second floor staircases had worn away, leaving a gap staring into the stairwell, once used to operate an elevator.
It is also unclear if the Prabhadevi resident slipped through the open staircase or fell down through the elevator entrance on the first floor.
The woman had been admitted to the TB hospital on March 10 and was also suffering from drug-induced hepatitis and increased liver toxicity, said a senior doctor.
"We have instructed the maintenance department to get the grills fixed with immediate effect. We had never imagined that somebody would jump into the lift duct off the staircase to end life," said an administrative medical officer.
The victim's younger brother told dna that the woman was frustrated due to her illness. Further, she and her husband, who died of HIV-TB last year, had paid Rs 7,50,000 to a builder, Nitin Jain, for a room in a Worli chawl but he fled with the money. "Instead of giving them the house, Jain ran away. My sister was depressed since then," said the brother, who works a fitness consultant in Prabhadevi.
Dr Shubhangi Parkar, head, psychiatric department, KEM hospital at Parel said: "Our team of psychiatry doctors routinely visits Sewri TB hospital to counsel patients. The heavy dose of drugs to be consumed for MDR-TB and HIV makes patients nauseated, depressed and irritable. Some of them turn suicidal."