CR employee Todankar's bravery saves her chain.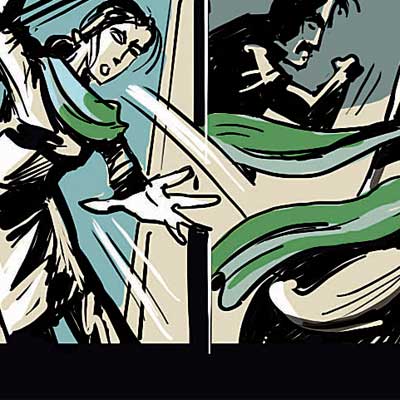 Instead of standing helpless when a 20-year-old man snatched her chain at Mahalaxmi station, 48-year-old Vaishali Todankar got off the running train, chased him and then handed him over to the police.
The accused, Sumeet Jawalekar, is a resident of Dhobi Ghat. He had boarded the ladies compartment of a Virar-bound train at Mahalaxmi station on Thursday with an intention to steal.
According to the police, the incident took place around 2pm. Todankar, a resident of Mahalaxmi, works at the Central Railway's Matunga workshop. She had boarded the second class ladies compartment at Mahalaxmi. As the train was relatively empty, she got a seat inside the compartment.
As the train set in motion, the accused entered the compartment and approached her and snatched her gold chain weighing 27 grams. He then quickly jumped out of the train on the platform.
Todankar, without waiting for a second, mustered courage and jumped out of the moving train. She started chasing him and also raised an alarm.
On hearing her screams, fellow commuters waiting on the platform joined her.
She with the help of a few commuters succeeded in nabbing Jawalekar and getting her stolen gold chain. This after chasing him for a good 15-metre distance.
The fellow commuters thrashed him before handing him over to the Government Railway Police (GRP) patrolling on the station.
"We have arrested Sumeet Jawalekar for robbery. We also have Todankar's complaint. Jawalekar will be produced before the Mumbai Central railway court on Friday," said Shivaji Shinde, senior inspector from Mumbai Central GRP station.
The victim was unavailable for comment.