Police identify attacker from CCTV footage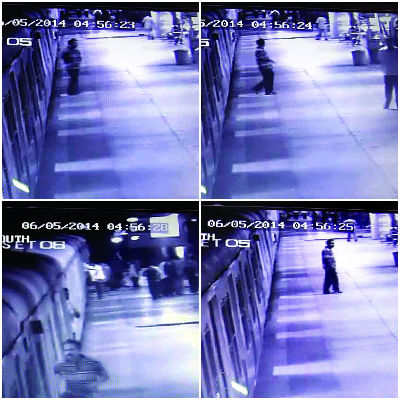 A day after a young woman was assaulted and robbed on a local train early on Thursday, the constable who was absent from duty in the compartment has been suspended.
The Government Railway Police (GRP) said on Friday that they have also identified the attacker from CCTV footage and are searching for the man.
The woman, Apurva Chakraborty, suffered head wounds that required five stitches. Her condition is table and she is recovering at home in Rahul Park, Bhayander (East).
The 25-year-old was travelling in the ladies compartment when a man stepped in at Mira Road station, beat her up, robbed her ornaments and escaped at Dahisar, the next stop.
Deepak Devraj, divisional commissioner, GRP, said: "We scanned the CCTV footage from Mira Road station at about the time the incident happened and spotted a man loitering near the ladies compartment, then boarding the train. We showed the pictures to the woman and she has confirmed that he is the one who assaulted her. We are searching for the accused and will nab him soon."
Devraj also said that the constable, who was absent from duty in the ladies compartment, has been suspended. A preliminary enquiry revealed that the policeman, Sikander Shaikh, should have been in the compartment when the train started from Virar. However, he slept the night at Borivli station, deciding to board the train when it reached there.
Reacting to the information about the suspension of the policeman, the husband of the woman has demanded strict action. "My wife is still in trauma and is recovering slowly. We want strict action against the constable for shirking his duty. I hope the attacker is arrested soon," said Dipen Medda.
Some women commuters have also expressed anguish over the incident, saying it exposes the weaknesses in the security system.
"Suspension of the constable will not keep women safe. Women workers and even students get out very early to reach their destinations. Such incidents are scary and keep happening regularly," said Sunaina Sharma, a BMM student.
"Virar and Naigaon stations are hardly guarded and there is always a fear of such attacks," said Rahul Singh, a resident of Virar.