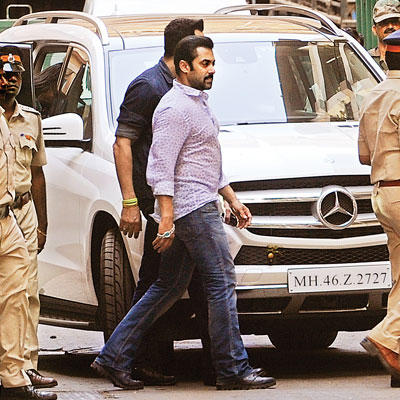 What could be fresh trouble for Salman Khan, three persons who were allegedly hit by the actor's vehicle in 2002, identified him in the court on Tuesday. They informed the court that Khan had alighted from his vehicle after it had allegedly rammed into the pavement dwellers. One of the witnesses also informed that the actor was under the influence of alcohol.
Three witnesses, namely Mohammed Muslim Shaikh, Manu Malia Khan and Mohammed Kalim Pathan, had approached the sessions court, presided over by judge DW Deshpande, in order to record their statement in connection with the case. All the three were first examined by the prosecution and later crossed-examined by the actor's defence counsel.
Muslim, while deposing before the court, informed that in September 2002, the vehicle had rammed his leg while he and other bakery workers were sleeping on a pavement near American Express Bakery. The victim informed the court that between 2.45am and 3am, when he, along with others, was fast asleep, the car ran over them. "We suddenly heard a loud noise. We woke up and realised that the huge car was on us. The car had ran over my leg and I was in pain. Later, when the bakery workers and locals rushed to the spot, we realised that Khan was in the car."
After locals saw Khan in the car, they asked him to get down from the car. "When Khan got down, he fell down as he was under the influence of alcohol," Muslim added.
However, when Khan's defence advocate Srikant Shivade examined Muslim, he informed the court that the statement recorded by Muslim before the magistrate's court in 2006 is contradictory to what he is saying now. "While recording statement before the Bandra Metropolitan Magistrate court in 2006, Muslim in his statement had claimed that at the time the car rammed over them, he did not see Khan getting out from the vehicle."
Even the other two witnesses supported the prosecution's case.
Meanwhile, the matter is now posted to May 19, when the prosecution would examine other witnesses in the case.
Rs5 lakh to turn hostile
Witness Muslim Shaikh received threat calls from an unidentified person, who told him to take Rs5 lakh and turn hostile. Shaikh informed the Bandra police immediately after receiving three calls on Sunday morning. Police inspector Rajendra Kane of Bandra police station, who is investigating the case, said, "We have recorded Shaikh's statement and informed the court about it. The court has directed to investigate the case and submit a report.
During investigations, we found that the caller was an advocate.
Hit-and-run
On September 28, 2002, actor Salman Khan had allegedly rammed his Toyota Land Cruiser on pavement dwellers who were sleeping next to a bakery in Bandra (West). One person died and four others were injured in the incident.