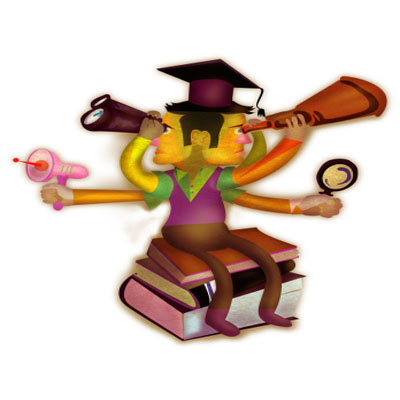 The Higher Secondary Certificate (HSC) examinations have almost come to an end and as is the ritual, students have started hunting for career options. As they will soon move out of school and set foot into colleges, a right decision at the right is essential to shape their careers positively.
Many students remain in the stream they opted in schools and pursue higher education in professional courses like medicine or engineering. Nikhil Bhalerao, a resident of Kharghar is planning to join an engineering course. However, he also wants to pursue a degree in science. "While preparing for entrance examination to bag a seat in an engineering college, I also want to pursue a degree in pure science. This will help me save a year in case I do not get admission in a good engineering college," said Bhalerao. Jagriti Sahay wants to study French language and has decided to join JNU, Delhi. "As I have gone through different career options, and French was one of the subjects in higher secondary, I want to explore it more," said Sahay.
As the number of seats offered by JNU is very low, she is searching another prestigious institute for the same. A right decision at this point is important and most city counsellors suggest students to choose a career as per their interest. "Students should always make analytical decisions and choose those subjects which are of their interest," said Siddarth Chavan, a city-based education counsellor. However, most students are ebullient about joining a college and end up choosing a stream which their friend has chosen. "Following their friends' footsteps in choosing a subject spoils their careers. They should choose a career option which suits them," added Chavan. Many a times, students take up a particular stream to keep the options open after class XII.
"This is the time to make a proper choice and pick from various career options available. Depending upon students' aptitudes and interests, they can switch to other course and career option," said Chavan. Switching is possible to some extent in India. "Students studying science can switch to commerce or arts and this helps them choosing a career option in civil services as well. So, one should explore the college and course and carefully look for the eligibility criteria to make the appropriate decision," concluded Chavan.