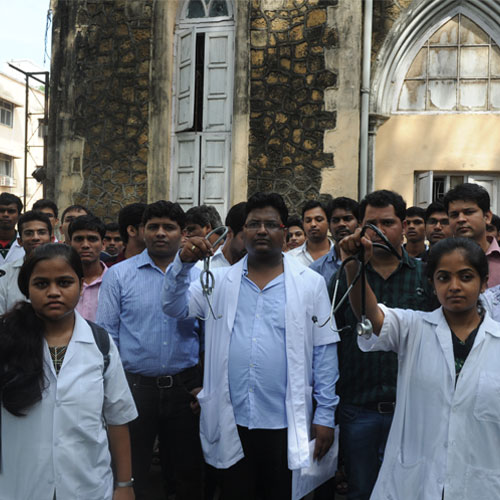 Kavita Shukla, 20, is due to deliver on Monday. After experiencing premature labour pain on Friday, she tried to get herself admitted to the BMC-run Sion Hospital, but was turned away because resident doctors across Maharashtra were on strike.
"I have been undergoing treatment at the hospital for months. However, when I needed urgent medical attention, the doctors told me to get admitted to a private hospital," Shukla, a resident of Sion, told dna. "We were asked to go to the KJ Somaiya Medical College in Chunabhatti or elsewhere... I have lost faith in the medical system which does not put the patient's concern first," said Pankaj, Kavita's husband.
The hospital told dna that Shukla could come after 8pm when the doctors called off their strike.
The doctors' strike to protest against the alleged police assault on their colleague at Solapur's Civil Hospital had a bearing on surgeries in city hospitals. The outpatient department at Sion Hospital wore a deserted look. "No patients were seen in the OPD department though we treated 178 patients in the casualty and trauma wards," said Dr Avinash Supe, dean at Sion Hospital. On an average, the hospital carries out 400 surgeries in a day.
At Parel's KEM Hospital, doctors treated only those patients who needed immediate attention.
RR Shinde, dean in-charge of the hospital, said: "The professors and around 150 resident doctors on duty handled the load effectively. We managed to conduct minor and major surgeries on Thursday as resident doctors in our super specialty departments were working."
Only 50-70 patients were attended to at Mumbai Central's Nair Hospital.
"Ten minor and two major surgeries were carried out. Ten deliveries and four Ceasarens were also done," said Dr Ramesh Bharmal, hospital dean.
Routine operations were done and 35 emergency procedures were also carried out at JJ Hospital, said the dean, Dr TP Lahane.
The doctors resumed duty at 8pm after the Bombay high court intervened and asked the doctors to withdraw the strike in public interest.