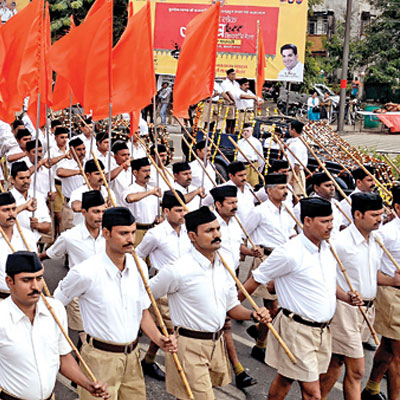 With Bharatiya Janata Party (BJP) capturing power at the Centre with a thumping majority, its parent organisation, Rashtriya Swayamsevak Sangh (RSS), is expected to grow exponentially in the months to come.
In his annual report for 2013-14, RSS 'sarkaryavaha' Bhayyaji Joshi had said as many as 44,982 were operating at 29,624 places across the country. This number is expected to shoot up in the coming months because the Sangh, under the leadership of its 'sarsanghchalak' Mohan Bhagwat, has demonstrated its ability to propel BJP and its leader Narendra Modi, a former RSS 'pracharak' (full-time worker), to the centre of power in Delhi.
Said Capt Swaminathan Iyer, 51, a former army officer who is conducting leadership camps at Lavasa and Kolhad on the Mumbai-Pune highway: "The Sangh's strategy is to solidly consolidate its position and expand so powerfully all over the country that no one can shake it at least for the next 50 years. RSS believes in silent work and it has spread its activities in several areas all over the country. Thousands of people are already approaching it after being impressed with its nation-building activities and their number is sure to grow in the months to come." Capt Iyer himself joined RSS 10 years ago.
Another RSS activist, Milind Khot, said RSS will certainly grow in the context of the present political developments. "In fact, there is a new enthusiasm in the organisation. Even old-timers are flocking to the shakhas," he said, adding, in a city like Mumbai, where most people are busy, one can't expect people to attend the daily 'shakhas', but many are expected to attend the 'saptahik milan' (weekly meeting) programmes.
Senior RSS activist Pramod Bapat said: "RSS does not believe in short-cuts and this applied to its growth also. There is tremendous curiosity among the people to find out about the organisation, which placed Modi and BJP in power. Even when new people join RSS, we need to guide them and explain to them the organisation's philosophy."
Bapat's observation makes it clear that RSS wants quality recruits. Former 'sarsangchalak' Golwalkar Guruji's had always exhorted the Sangh volunteers to "talk less and work more". This is an article of faith with RSS and it is functioning silently in a massive manner in all the states.
In the past, when BJP came to power, RSS was able to expand its leadership training centre at Uttan in Bhayander in a big way. Late BJP leader Pramod Mahajan, who had his beginnings in RSS in Parli-Vaijnath in Beed district, played a crucial role in the development of this centre, which is spread over 15 acres and boasts of world-class training facilities.
Rambhau Mhalgi Prabodhini, an intellectual and training centre, which used to operate from small premises in Wadala, was shifted to Uttan and much of the ideation for the Sangh Parivar is done at this sprawling centre.