Prevailing low pressure area on western coast likely to bring in more rainfall in the next 24 hours, says IMD.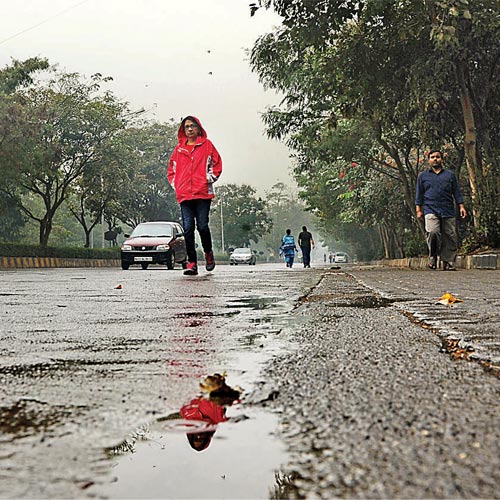 The sun did a Houdini on the city the last couple of days, with most of the daytime being cloudy and witnessing slight rainfall.
While some Mumbaikars found the days quite dull, others made it a point to get out and enjoy the weather. "With all the haze and clouds, the city almost looked like a hill station but didn't feel as chilly as one. There was a nice cool breeze blowing all day and little winter showers. I couldn't help but take the day off from work to go out and enjoy it," said Tanvir Sudan, an event professional from Andheri, on her way to Marine Drive.
Humidity levels have risen over the past few days; on Monday, they were between 91% and 96%, which is around 20% above normal. The minimum temperature was at an average of 22 degrees Celsius, which is four degrees above normal.
Regional meteorological department officials attributed the slight rainfall to a prevailing low pressure area on the western coast. "A trough or low pressure area has developed, extending from Lakshadweep to Gujarat and that's what is responsible for this cloudy weather. The minimum temperatures are quite high and might rise further till the clouds persist. However, cool northerly winds will continue blowing in and there is a slight chance of rainfall in the next 24 hours," said KS Hosalikar, director general of the India Meteorological Department (IMD), Mumbai.
The IMD website said that along with the trough there is an upper air cyclonic circulation over Rajasthan that has affected the weather in Mumbai. It has forecast a few showers over Konkan Goa, Maharashtra, Marathwada and Gujarat for the next 48 hours.
Although temperatures are set to rise, with the humidity and rainfall making days warmer, cool winds from the north will keep the climate pleasant. But these weather conditions won't last long, Met officials said. "This trough is expected to last for another 24 hours, after which the weather should revert to normal," said Hosalikar.
Winter in Mumbai usually concludes by the end of January, sometimes extending up to the beginning of February, after which temperatures start rising again.