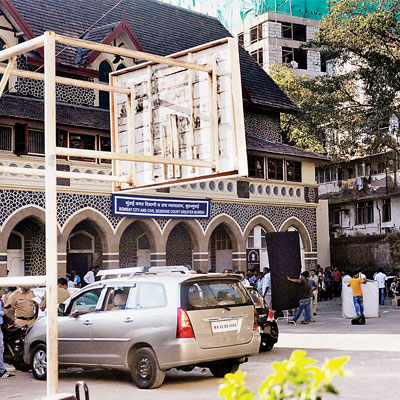 While class 12 students were appearing for their board examination at Wilson College in Chowpatty on Saturday afternoon, on the same campus, a courtroom scene was being shot for a movie.
It turns out that Wilson College had given out its premises for a movie shoot allegedly starring Akshay Kumar while class 12 were sitting the Sanskrit exam from 3pm to 6pm. "There were so many vanity vans, vehicles and people moving around the campus. The shoot also included fake policemen, which can pose a threat when a board examination is going on. Apart from the board exam, there was also a college exam in the morning," said a professor from the college.
The professor complained about this issue to the Maharashtra State Board of Secondary and Higher Secondary Education, the collector and also the Gamdevi police station. "The college was given permission from the collector's office and hence the police and the board refused to take any action against them," said the professor.
However, board officials said they did not ignore the complaint and sent a member from the board to investigate the situation following the professor's fax. "We received a complaint and hence sent a member from the custodian centre to investigate. On meeting the principal, the official was assured that the students would not be disturbed. While there are no specific rules on whether the premises can be rented out during an exam, the centres must not conduct any activities in its premises that may be interfere or disturb the candidates," said PR Pawar, secretary, Mumbai divisional board.
Justifying the position of the college, principal VJ Sirwaiya said they had all necessary permissions for the shoot and had ensured that students would not be disturbed. "There are a few disgruntled elements who are trying to make an issue out of nothing. We have a five-acre campus. The shoot took place at the basketball court and the college hall, which is at the southern end of the campus. The students sat the exam in a building which is near the north end. Even the entries and exits are different," said Sirwaiya.