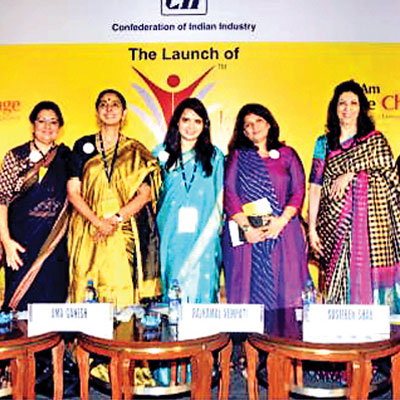 At the launch of Indian Women's Network (IWN) by CII in Mumbai last morning, speakers Dr. Janmejaya Sinha, Chairman of (Asia-Pacific) BGC and R Mukundan, Chairman of CII Western Region and MD of Tata Chemicals Ltd., in during the inauguration pointed out that improving women's literacy also leads to improved literacy for men. "At a village close to one of our plants, some women told me yahan sab ladke nikamme ho rahe the, lekin abhi ladkiyan bhi padhti hai to unko bhi padhna padta hai. No one will marry these men otherwise," shared Mukundan.
The session was moderated by Mini Menon.Talking about women in the corporate space speakers pointed out the need for women to have clarity in their goals, communicate and negotiate their needs to organisations and mentoring for women in the workplace. On this subject, Zia Mody, Managing Partner of ABZ and Partners, said, "Women will naturally mentor women, but good male mentors are also required. The fact is that there are more men on top than women, so you also need strong men who get the plot, who are respectful and willing to treat women equally if they have the ability. It gives a lot of confidence."
Breaking a myth about women during the first panel discussion on Challenges and Enabling Solutions, Anjali Raina, Executive Director of Havard Business School says, "It's not that only fewer women are able to break the glass ceiling, a lot of men don't make it too. But it's just that the number of women is so low in comparison that whether women make it to the top or they don't, it becomes a talking point." Other panelists included Rajkamal Vempati of ICICI Lombard, Advocate Susieben Shah, Chairperson of Maharashtra State Commission for Women, Dr. Indu Shahani, Shaheen Mistri, Founder and CEO of Teach for India and Uma Ganesh, CEO of Global Talent Track.
Financial independence is obviously important for empowerment, but what's the point if women don't manage their own money? Aditi Kothari, Executive Vice President of DSP BlackRock Mutual Fund, shared that "only 18% working women manage their own money. One of my friend's husband handles her money and she was afraid to even ask him when she wanted to buy a new phone as he was in a bad mood. There are many such examples and in fact a lot of women in my own office don't decide what to do with their money." DSP BlackRock is an empowerment partner with CII for the IWN initiative. Zarina Mehta, Managing Trustee of Swades, Meeran Borwanker ADG of Police and IG Prisons, Pune were the other panelists for the discussion.