The Storm Water Drains (SWD) department of BMC claims that 60 out of 70 per cent of desilting work to be completed before monsoon is already over. However, a site inspection of more than 15 spots of major drains across the city tells a different story.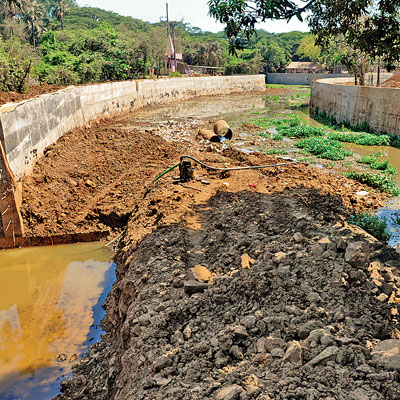 With only 20 days in hand to meet the June 5 desilting deadline and Cleveland pumping station at Worli and Love Grove pumping station at Haji Ali already missing their deadlines, the civic body is actually struggling to complete the job before the rains start. The two pumping stations, started in 2011, were to be operational by October 2013. The contractor has been fined Rs29 lakh for the delay in the two projects.
The new deadline is October 2014.
Once operational, the Rs102-crore Love Grove pumping station and Rs116-crore Cleveland Bunder pumping station would prevent flooding in areas such as Worli, Parel, Prabhadevi and Mahalaxmi.
As part of the Brimstowad project, implemented after the 2005 deluge, the BMC had decided to install pumping stations at eight chronic water logging spots in the city.
Ratna Mahale, NCP corporator from Haji Ali and chairman of ward the committee, has alleged that dredging was not done at Love Grove pumping station. "One stretch was entirely left out; I fear that if it rains heavily, the area will get flooded," said Mahale while complaining to Mayor Sunil Prabhu and additional municipal commissioner SVR Srinivas.
Prabhu as well as Laxman Vhatkar, director engineering services and projects, assured the corporator that the work will be done before monsoon. However, Mahale was not convinced.
Prabhu said that this year cleaning of drains started much earlier as compared to last year. "I am sure that people will enjoy the monsoon without facing unpleasant situations of flooding and hardships. While last year only 30 per cent of work was complete by this time, this year, almost 60 per cent work is already over. We still have 20 days to complete the remaining work," said Prabhu.
The condition of Mithi river flowing towards Powai under the MTNL bridge looked gloomy. The view clearly indicated that desilting work was not done. The water bed was full of silt obstructing the flow. "It is humanly impossible to clean the drain in the next 20 days, unless the contractor presses 200 labourers round the clock along with additional machinery. And managing that will be impossible," said a senior civic official requesting anonymity.
The Storm Water Drains (SWD) department has already started deepening and widening of some major drains by deepening and widening them, building retaining walls and desilting them.
"A major drain at Nanepada was only one-metre wide. The drain is widened to 3.5 metre and 3 box drains of 6 metres each have also been constructed. This drain is connected to one culvert which passes through the Central Railway premises and is, at present. only 6-metre wide. We want to increase it to 9 metres so that the width will go up to 15 metres and help in receding water from the area which houses more than 20,000 people. Similarly, the Mithi river inn Powai is also widened from 10-12 metres to 25 metres so that the holding capacity is increased," said Sunil Madane, deputy chief engineer, SWD (eastern suburbs).
Madane added that correspondence with the railways is on but the civic body has not got any reply as yet. "We have written to the railway authorities once again and awaiting their response," he added.