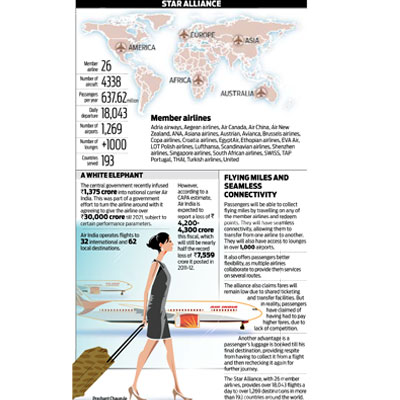 Like it happened to Jet Airways' after the Jet-Etihad deal, will Air India's entry into Star Alliance, make it a 'feeder' in the ultra-long international market once a new government takes over in New Delhi?
An analysis by a leading international aviation consultancy firm, CAPA, claims that the new government that takes over the country's reins after May 16, is unlikely to let the national treasury continue to fund the flag carrier that shows few signs of ever becoming profitable.
And this could possibly result in Air India not going for expansion on long-haul routes, but be content to act as 'feeder' to some of the powerful Star Alliance members like Lufthansa, United Airlines and Air Canada. CAPA report reveals that Air India's induction would help Lufthansa, the most powerful member of the alliance, in preventing its declining competitiveness before the rising might of the Gulf airlines'.
'Feeder' here means a commuter carrier that brings in travellers (feeds) from destinations not served by large carriers to hub airports for further journey on national and international airlines.
For its passengers, it would mean, Air India slowing down on its expansion plans on long haul flights, and they having to halt at any one of the hubs before catching a partner flight for the journey ahead.
"There will be some inconvenience for the passengers. But alliances come with many benefits too. Many non-profitable routes and even those routes that are dull during off-season, can turn profitable with such an arrangement," said aviation expert Vipul Saxena.
CAPA report points out that if the new government refuses to write off Air India's huge debt, that would suit Star Alliance, which already has on its board strong members like Lufthansa, Air Canada and United Airlines, which are unlikely to encourage Air India's aspiration for increased access to their key markets in the UK and North America, which has huge Indian diaspora. US aviation regulator FAA recently downgrading country's aviation on issues of safety too has limited Air India's expansion in the US.
"Here is a chance for a meeting of minds (with its foreign partners). If Air India, despite its recent 787-based revival, were to restrict itself more to domestic and regional operations, its losses could be reduced dramatically," CAPA report says.
Air India, which has a debt of over Rs 40,000 crore, has regularly been put on life supporting system by the government, infusing tens of thousands of crores. The report further adds: "Air India's value lies in feeding the Star hubs, not operating long haul itself."
However, certain aviation experts disagree. "I don't fully agree with their conclusions that Air India will be reduced to becoming a feeder airline," said aviation expert and blogger Devesh Agarwal. "I see Air India tweaking its network to better leverage its traditionally strong routes like London and Chicago, and partnering with Air Canada, United, and Lufthansa via Frankfurt to offer connections to more destinations in North America, especially in the west coast, like Vancouver and San Francisco."
An Air India spokesperson declined any comment.
Etihad airways, which bought equity in Jet airways, is expected to use the latter as a feeder airline to its hub in Abu Dhabi for carrying passenger further on long haul routes.