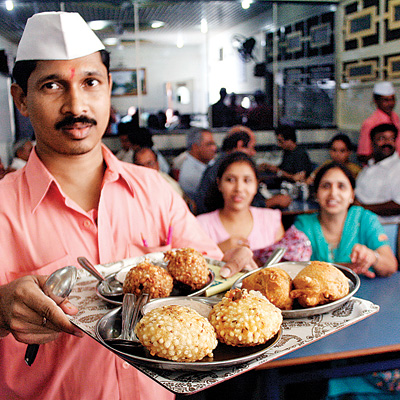 While Shiv Sena MPs are complaining about the non-availability of Maharashtrian food in Maharashtra Sadan in New Delhi, it is difficult to find Maharashtrian cuisine in the state's own capital, Mumbai,. About 40 per cent of the city's population of about 12 million people are Maharashtrians. Yet, the metropolis has only about a couple of dozen restaurants serving indigenous cuisine. Most of the restaurants are Udipi ones which serve South Indian, Punjabi and Chinese fare. But, if you are living in Chembur and feel like having a typical `masale bath' then you have to travel all the way to Dadar (west) and savour the dish at either Prakash, Tambe's or Trupti.
Many iconic Maharashtrian restaurants like Virkar in Girgaum, Kelkar Vishranti Gruh at Fort, Sardar at Lalbaug and Dattatray Boarding at Dadar (West) have all shut down. In fact, when Dattatray Boarding first announced its decision to down shutters a few years ago, the late Shiv Sena chief Bal Thackeray intervened and requested the owner to change his mind "since the number of Maharashtrian restaurants are fast dwindling." Thackeray had a special attachment with this eating house since his father, noted social reformer, Prabodhankar Thackeray, was a regular at Dattatraya, which used to serve superb `varan bhaat', `aluwadi,' `kothimbirwadi," and typical `thali." In deference to Thackeray's wishes, the owner did postpone the closure of his establishment, but he could not hold on for long. A few months ago the joint closed down permanently. Said Abhay Joshi, a Dadar resident: "It is really sad that hotels like Dattatraya are no more. It is ironic one has to hunt for Maharashtrian eateries in Mumbai." At least Dadar (W) residents are lucky because they are still left with Prakash (in its new location) and Gypsy Corner. Aswaad started as a full-fledged Maharashtrian joint but now has added South Indian items like idli, dosa and uthappa to its menu of misal, dalimbi usal paav, masale baath, and poli bhaaji.
Sardar occupied a strategic corner on the main BA Road at Lalbaug and was popular with both the working class and the middle class, It was rightly famous for its moderately priced misal and usal paavs. Now it has vanished from the food map. Nearby, Ladu Samrat, however, continues to tickle Maharashtrian palates. Kelkar was bang opposite CST and was a hit with office-goers but sadly, it too closed down. Aram, a small outlet next door, however, is bravely soldiering on with its renowned dahi misal and hot batata wadas. Chaphekars at Lamington Road is known for its thalipiths served with white butter. But competition is eating into its revenue forcing it to remain shut on Sundays. In any case, many Maharashtrians in the area have moved out to the suburbs. The option is to go to Vinay near Fanaswadi.
The spacious Mama Kane opposite Dadar railway station (WR) continues to serve Maharashtrian patrons by offering authentic `thali' at modest prices. But it is badly in need of a renovation if it is to attract more foot falls. In the suburbs, joints like Potoba opposite the Kalina campus, Sapre's in Goregaon (W), Panshikar and Kolhapuri Chivda in Girgaum are keeping the Maharashtrian flag high despite various constraints. The late Shiv Sena leader Pramod Navalkar opened Zunkha Bhakar Kendras at CST, Dadar and a few other places. Under the leadership of his wife, these small outlets continue to serve Maharashtrian commoners' fare like `zunkha' and `bhakar.'
Some time ago, the Shiv Sena had a plan to ask the owners of all Udipi restaurants, which are spread across the metropolis in the hundreds, to include Maharashtrian dishes in their menu, but the plan never took off.