Footpaths, or the uselessness of them, are bringing people on the streets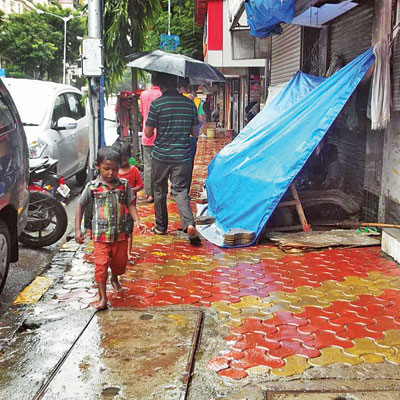 People in Mumbai are always in a hurry and sometimes ignore the hassles they are faced with in their everyday life. One of the major issues concerning the security of citizens is the mighty old footpath. Many areas in the city have wide, well-constructed roads flanked by footpaths for the benefit of the pedestrians. However, come monsoon and these footpaths become a slippery mess. Overflowing water gets collected in the potholes formed on the footpath, causing pedestrians to jump over it.
While passing by areas like the Bhuleshwar Street or the Abdul Rehman Street, you tend to walk alongside heavy vehicles. The footpaths here are either very narrow or the majority of them are encroached by hawkers. At the end of Bhuleshwar Street, a BMC truck is almost always present on the side of the road—daily for about six to eight hours, making the place unhygienic and reeking of stench.
Bharti Thakur, a resident of Kalbadevi, says "At peak hours, it becomes difficult for us to step out of our house. The worst scenario takes place in the morning, when food leftovers and other wastes, strewn randomly, are seen on the roads."
A similar area of Crawford Market has an entire stretch brimming with people and shops. Heavy vehicles parked on this stretch utilise half of the road, leaving only the remaining half for vehicles and pedestrians to pass. Shoppers and hawkers in this area create chaos on the footpath, leaving barely any space for pedestrians to move about.
We are presently regulating the hawkers and hopefully we will manage them better, as pedestrians are our priority. Also, every morning, workers from the ward conduct a routine maintenance check of the footpaths. We especially keep a tab on the school areas and if there are any issues, appropriate action is taken immediately."
—Parag Masurkar, Assistant Municipal Commissioner, D-ward
Footpaths are a right of the citizens and illegal hawkers cannot consume them for their personal benefit, thereby putting pedestrian life in danger. Footpaths are made for the public. People should realise that these are constructed for the benefit and security of people, who also have the right to question the authorities, in case of any problem."
—James Godwin, a regular visitor