Would you give up your car or an air-conditioned existence to add a little more green in the environment around you? Here is how some remarkable citizens are setting examples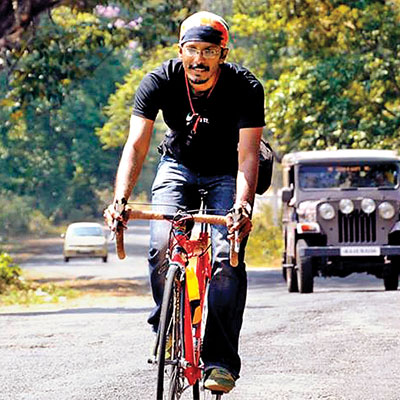 This is a dialogue with individuals who are content with having lesser 'green' in the pocket and adding more of it to the environment.
Change your lifestyle
Meet Santacruz-resident Dr Purnendu Nath, a health and fitness guide who gave up the luxuries of a car a couple of years ago. He shares, "20 years ago, the first car I bought was a BMW but I gave it all up. Being a cyclist, runner and fitness enthusiast, I refuse to own a car now. I felt the need to change my lifestyle so that I can walk more; I do not want to be driven around and get stuck in the city's traffic, I prefer a hassle-free existence." When asked whether his passion for being green extends to his family and kids, he shares, "My son loves cars and when my wife tells him that we drove him around in a BMW when he was younger, he gets thrilled. But both my kids feel that it is cool to go green, walk from point A to point B and be healthy. It is not a question of deprivation; as and when required one can hire a vehicle for longer commutes, but at a very basic, individual level I relate to this style of living."
Such deliberations sure demand a change in attitude and lifestyle, which very few of us are conscious of. "You cannot change others; you can just make them aware, it is up to them to make a wise choice. I constantly remind my daughters about making green choices—explain why I will not buy them plastic toys. They know I hate those little plastic toys that last two minutes and stay trashed for over a 100 years! It is embarrassing how business has taken over protecting our environment," shares Andrea Stadler Reinsmoen, a teacher at a school in Bandra.
Going organic
Reinsmoen's words resonate with that of Bandra-resident Randel Romell, who believes it is not just about giving up but ingraining the concept of green living in everything you do. He says, "At home, my mother has an urban organic farm, we compost our wet waste and use the water pump sparingly. At an individual level, I belong to both a runners group as well as a car pool. This drastically reduces my carbon footprint. I have extended these values to my work as well. At my construction firm, we are working on Platinum certified Green Buildings, which consume 30 to 40 per cent less energy and water."
Cycling for change
Anil Uchil has been commuting around the country on a cycle for over the last 30 years. "I try and reduce my personal use of electricity; my wife is also an ardent advocate of this. We use public transport, as far as possible. However, cycling has by far been my most preferred means of going green. My aim was to get people out of their cars and start cycling to showcase Mumbai as a cycling-friendly city. Under the Cycling 4 Change banner, I have been regularly organising cycling events—formal bicycle races, competitive cycling events, fun events, rallies/events for social causes, leisure tours, endurance events, etc. to encourage this cause," shares Anil Uchil.
It is refreshing to know that cycling is being increasingly taken up as a green initiative by city folks each day. Santacruz-resident Amit Bhowmik, who founded www.cyclists.in, an online community encouraging people to get back to the sport. "After driving in Mumbai for a decade, I finally sold off my car in 2012. Rather than celebrating a 'car-free day', I felt a complete car-less lifestyle would make a bigger difference. I also chose to give up the car, as a lot of AC bus and radio cab services are operational."
With convenient public transport, the need to own more seems to elude these change makers. "I think it is so important to constantly talk about this and make people aware, but people want more. They nod and agree, but they are too lazy or are too proud to actually change their lifestyle. It is annoying, but we must maintain this dialogue," adds Reinsmoen. We could not agree more!