For a band of youngsters, music, dance and language of that country is the latest fad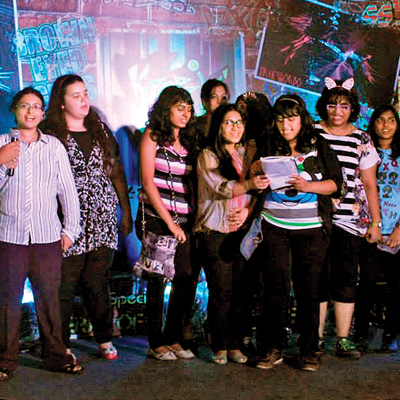 Two years ago, Psy's Gangnam Style caught the imagination of the city's youth, like their counterparts elsewhere, and brought in a flavor of Korea into India.
But for certain peppy youngsters in Mumbai, the love affair with Korean song and dance is proving to be long-lasting. Close to 200 persons in Mumbai are heavily influenced by modern and traditional Korean art, culture and music, officials from the Korean consulate said.
Bowing to popular demand, the Korean Cultural Centre (KCC), a wing of the Korean embassy, has announced the third edition of the Korean Pop (K-Pop) 2014 festival in India.
Orlinda Fernandes (39), a Byculla resident and fashion designer, is perked up about the upcoming festival. K-Pop is a musical genre originally from South Korea, combining modern forms of music covering dance-pop, pop ballad, electronic, rock, hip-hop and rhythm and blues.
Orlinda got hooked to Korean pop music six years ago after watching two popular television dramas – Hwang-Jini and Full House.
"People who are gung-ho about Korean song and dance have to participate in online auditions by uploading their group dance and song video recordings online," said Orlinda. She heads the Korean Fan Club in Mumbai, which has a membership base of over 170 in the city.
Orlinda observes that Korean pop music bands assemble in groups and are highly synchronised. "The pop music talks about everything from love to silly fights or the beauty of nature. The K-Pop festival is celebrating the 'Hallyu'', wave of Korean modern music and dance," she said.
Asma Shaikh, a 17-year-old Bandra resident, has never attended Korean language classes. But ask her phrases in Korean and she can rattle off like a native. "I have gotten a hang of the language by watching Korean dramas on the Internet. At times, I try and watch them without subtitles. I have been following Korean TV dramas for over seven years now. I try joining two or three words to make sentences," Asma said.
Statistics provided by the consul indicate that there are close to 8,000 Indians across the country, who are fond of Korean art and culture. Officials at the Korean consulate in Mumbai said that a large number of youth have been demanding Korean language in Mumbai.
"In the absence of classes at the moment, hundreds of them are learning the language over Internet by watching television dramas, music videos and from YouTube," said Shandon Lee Fernandes, spokesperson, Korean consulate, Mumbai.
Trivia -
'Hallyu' is a video released by Psy of Gangnam style fame with American rapper Snoop Dogg, Hangover, which released Sunday night and went viral over the internet, has received over 1.7 million hits in one day.
For participating in the auditions, contestants can upload their videos from June 5 until July 13 at www.kpopindia.com
Eliminations will occur in Mumbai, Delhi, Dimapur and Chennai
Shortlisted candidates will perform in Siri Fort at Delhi on August 30
Winners will get an all-expense paid trip to South Korea and a chance to perform in K-Pop World Festival at Changwon in South Korea