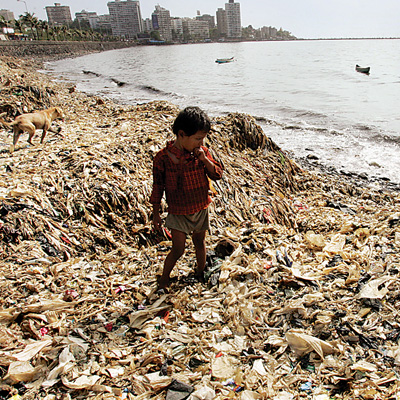 Last week, when the nanauk storm hit the Mumbai coast, sea fronts were littered with plastic, coconut shells, broken glass and food residue. However, much is left unseen. Mumbai flushes up to 80% of untreated sewerage directly into the sea. BMC's ambitious project to dispose treated sewerage in the sea is yet to function fully.
Quality of water along the seafront does not conform to the standards set by Maharashtra Pollution Control Board (MPCB). Coastal water quality parameters like Biochemical Oxygen Demand (BOD) and faecal coliform are found to be way above prescribed standards.
Environment Status Report of Greater Mumbai prepared by Municipal Corporation of Greater Mumbai (MCGM) 2012 – 13 indicates inadequate system for waste water disposal into the sea leads to the contamination in the sea water causes water borne pathogens and causes severe environmental degradation. The report shows that some species of fish have disappeared in the outfall operation zone.
MPCB covered samples from Gateway of India, Nariman point, Malabar hill, Haji Ali, Worli Sea face, Shivaji Park, Juhu Beach, Versova Beach, Girgaon Chowpatty.
Damodar Tandel, President, Akhil Maharashtra Machhimar Kruti Samiti, says that in the past 60 years, the seafronts have not been cleaned. "Ideally, the entire110 km coastline should be cleaned each year. Fish don't appear up till around to 3-4 km in the sea. Breeding activities don't happen anymore," said Tandel, adding, "Now fishermen have to go anywhere from 15 km to 150 kms to catch fish."
Debi Goenka, executive trustee, Conservation Action Trust, said that sewage from slums is diverted into the sea. "Such things are expected and we need to be prepared. The cause-effect is not in isolation, but has a cumulative impact. The BMC's sewerage project had plans of disposing the sewage through an underground tunnel at 8 km inside the sea. But the length of tunnel was reduced to 3 km. Single tidal current pushes the sewage back to the shore.